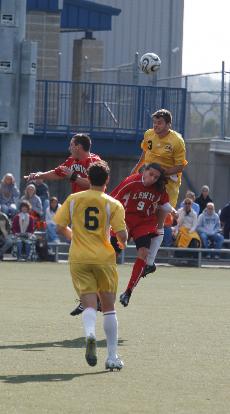 Tim Downer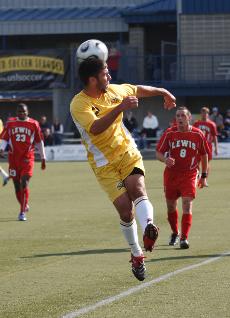 Tim Downer
The winning streak ended at 20 for the Northern Kentucky University Men's Soccer Team, along with what would have been the program's first Great Lakes Valley Conference title since 1995, (according to NKU Sports Information Web site) as Lewis University knocked off the Norse, 1-0, in the conference championship Nov. 4.
Lewis scored its goal in the 67th minute of play – its defense held the Norse in check for much of the game. NKU finished the game with just 10 shots taken.
The match between the No. 1 and 2 teams in the GLVC was a physical struggle, with seven yellow cards being issued – five for NKU, two for Lewis.
The loss, however, will have no bearing on the upcoming national tournament, which has been the team's main focus throughout the year.
"It would have been great to win this, but there's a bigger prize," Coach John Basalyga said after the match. "They just wanted it more than us in the second half."
Senior Andy Bacon offered a similar sentiment after the conference semifinal win over Rockhurst.
"It would be nice to win (the GLVC tournament), but getting a national championship ring on our finger is more important," Bacon said.
As for the NCAA tournament, NKU was awarded the No. 1 seed in the Great Lakes Region and was named the host school for the four-team regional section of the tournament.
The Norse will face the No. 4 seed, Gannon, in the regional semifinal. In the other semifinal, Lewis takes on Southern Illinois at Edwardsville. The potential for a return match-up with Lewis did not go unnoticed with NKU players.
"We definitely wanna play Lewis again. I think we would play a little harder because now it's one (loss) and you're done," said Junior Tony Ray.
If NKU wins its next two games and makes it out of the Great Lakes Region, it would equal the team's Elite 8 appearance a year ago.
"We would be happy with an Elite 8 appearance, but we always wanna go one game further, so a Final 4 is definitely our goal this year," said Senior Andy Bacon.
For NCAA Division II Men's Soccer Tournament information, log on to www.ncaasports.com.