Freshman dies in head-on car collision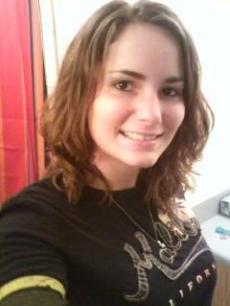 Posted on her Facebook.com photos
Northern Kentucky University student Samantha Spade, of Glencoe, Ky., died in a car crash Nov. 3 on US-127 in Gallatin County, according to a Kentucky State Police release.
Alcohol and speed are suspected causes for the two-car collision, which killed Spade, 18, and injured the driver of the second vehicle, identified by police as 24-year-old Mathew Miles of Northern Kentucky.
Police suspect that Miles was speeding and may have been legally intoxicated at the time of the collision. Miles was flown to University Hospital in Louisville, where he is currently in critical condition.
At approximately 8 p.m. Nov. 3, Spade's vehicle collided with Mile's vehicle north of Glencoe, Ky. She was pronounced dead at the scene, the release stated.
The impact is still under investigation, but preliminary information released by state police indicates that Miles was traveling southbound on US-127 when he lost control and veered toward the outer edge of the highway. He then overcorrected and crossed the center of the road directly in the path of Spade's vehicle.
Spade, a freshman nursing major, lived in the Woodcrest Apartments on campus and was very involved with the Baptist Student Union, which held a time of remembrance for Spade Nov. 4. The members of the BSU spoke about Spade's impact on their lives and created a book of memories for her family. Students can still come into the BSU to sign the book. It will be given to the family after the funeral. The BSU is planning a second memorial for Nov. 6 at 7 p.m. in the center.
A group has been made in honor of Spade on Facebook.com, called "God Bless Samantha Spade!" The group has 161 members at time of publication, and is "dedicated to the lasting memory of our friend Samantha Spade." Well-wishers have posted messages of remembrance, sadness and goodbyes on Spade's Facebook profile and the group's wall.
Visitation will be Nov. 7 from 4 to 8 p.m. at the Carlton Lowder Funeral Home in Warsaw, Ky. The funeral will be Nov. 8 at 11 a.m. in the Warsaw Baptist Church, which is located 106 W. High Street in Warsaw, Ky.
More information will be posted as it is released. Please keep visiting our Web site and read our full story in this week's Nov. 7 The Northerner print edition.
Please feel free to post any memories or information about Spade in the article comments section.