WTF: Smaller theater offers intimacy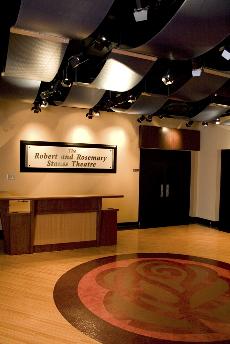 One can find several unique theaters on campus: the Corbett Theatre, which seats more than 654 people, the Otto M. Budig Theatre, which usually hosts presentations rather than productions and Greaves Hall.
But tucked away on the first floor of the labyrinth that is the Fine Arts Center is a shape shifter – a black box theater.
"The whole seating area can be taken apart and put back together in whatever configuration is needed," said Fine Arts Manager Josh Neumeyer, who supervises the box office staff.
That unique ability is what defines Northern Kentucky University's Robert ' Rosemary Stauss Theatre: the seats and stage can be moved to adapt to any production.
While a black box theater may sound foreboding, Neumeyer said it's quite the opposite. Such a small area gives directors an intimacy not available to the black box's bigger brothers.
"It allows the audience to be much closer to the action," Neumeyer said.
The small size and large flexibility, however, is double-edged sword.
Although the theatre is moldable and intimate, it doesn't have a fly loft, a series of pipes and pullies. It allows stationary auditoriums to change scenery by dropping a specific piece onto stage, such as a backdrop or a flag.
"In Corbett, one of the easy ways to change scenery is that (a fly loft)," Neumeyer said. "When it's needed, it can be flown in and taken up."
Black box productions are a little trickier. "The designers have to be a little more creative," he said.
"Darkside" will be showing at 8 p.m. Oct. 25 through Nov. 4 in the Stauss Theatre. Tickets are $10 for adults, $6 for students, $9 for faculty, staff and alumni, and $8 for seniors.