Mobster flick a date movie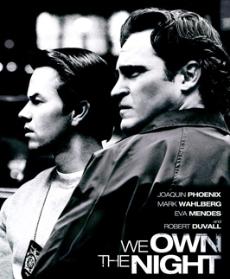 Cops fighting drug crime is a story line we are all too familiar with, but in "We Own the Night," it brings the "good guys" and "bad guys" together with two brothers on opposite sides of the drug war, played on the big screen by actors Joaquin Phoenix and Mark Wahlberg.
In the opening scene, Bobby Green (Phoenix) and Amada Juarez (Eva Mendes) are in a compromising situation, but it is a bit over the top – not what you'd expect to see in this cop vs. mafia drama, and actually could have been left out altogether. It makes Amada (Bobby's girlfriend) seem somewhat loose and risqu'eacute;, when she is actually a loyal girlfriend.
Bobby manages a popular nightclub in Brooklyn during the 1980s and his father, Burt, is the chief of police, played by Robert Duvall. This movie portrays the drug war between New York City cops and the Russian Mafia. Bobby gets entwined with his family's business when a Russian mobster, who operates from Bobby's club, becomes wanted by his brother and the cops.
Bobby attempts to hide his connections to his police force family, has no choice but to participate in a sting operation after his unconvincing look-alike cop brother, Joseph Grusinsky (Wahlberg), and becomes the target of a Russian mobster.
If you can get past the charming good looks of Phoenix and Wahlberg, the acting in the movie is actually pretty good. There are even a few intense scenes where you wonder what's going to happen next, such as a high-speed chase in the rain.
Overall, the movie was good, especially for those who aren't too into mobster-like dramas. It grabs the audience's attention and goes right into the story. The only gripe is how the ending unfolds between Bobby and Amada.
If you are looking for a date movie a girl would enjoy, and one a guy would actually want to see, then check out "We Own the Night."