Women lose in tournament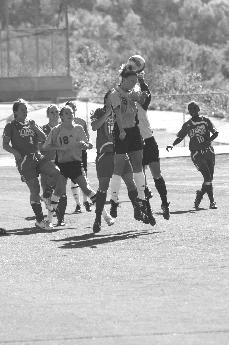 Tim Downer
After winning its first nine games, the Northern Kentucky University's Women's Soccer Team has fallen on some hard times. In the last nine games the Norse went 3-6, but was looking to start fresh in Great Lakes Valley Conference quarterfinal action Oct. 28 against Missouri-St. Louis. On the other side of the ball, Missouri-St. Louis has won its last three games.
The No. 4 seed Norse jumped on top early with a free kick by Kendall Day in the sixth minute of the game. The sixth goal of the year by the freshman upped NKU to 1-0.
The lead lasted only 13 minutes, however, as UMSL scored two goals within a 15-minute span, giving it a 2-1 lead.
The score remained 2-1 until the 77th minute of the game, when NKU senior Cara Alldred headbutted a ball through the net for her fifth goal of the season. Ashley Warndorf had the assist on the goal and the game was tied at 2-2.
The game wasn't tied for long, though. In the 81st minute UMSL player Anne Nesbit scored a goal off a rebound, putting the Tritons ahead to stay.
Alayna Fontaine had nine saves in the loss at goal for the Norse. UMSL not only won the game, but also took 11 more shots than NKU did as it out shot the Norse 21-10 and had seven less fouls as NKU committed 17 fouls to UMSL's 10.
The win for UMSL advances the team in the GLVC Tournament. As for NKU, the team bows out with a record of 12-7 and will wait to hear about an NCAA Division II Tournament bid. The tournament begins Nov. 9.