B-ball to bounce back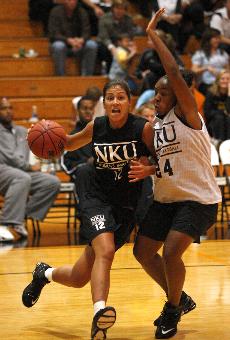 Tim Downer
Despite losing two 1,000 point scorers, an All-GLVC/All-Region player, and all-told, five seniors to graduation, this year's revamped Northern Kentucky University Women's Basketball returns some big-name players and is predicted to finish second in the GLVC East division.
The losses of such high-profile players in Karmen Graham, Karyn Creager and Brittany Winner from a year ago might have otherwise been devastating to Nancy Winstel's chances this season, if not for the return of three starters, several bench players and a timely Division I transfer.
Two of the returning starters are All-Region honorees from last season, Angela Healy and Cassie Brannen. Healy proved herself to be a dynamic scorer and rebounder last season, averaging 11.3 points and 6.9 rebounds per game.
As for Brannen, she set a school record of 71 blocked shots last year, which included 12 blocks in a single game — also a school record.
A third returning starter is senior Nicole Chiodi. Chiodi started 28 of 29 games last season and averaged 6.9 points and 4.6 rebounds per game.
She also led the team in assists with 98. She brings plenty of experience to the team too, having been the starting point guard the past two seasons
The wild-card on this year's team is Division I transfer, Ohio-native Jessie Slack from East Carolina University. Slack, a defensive specialist at guard, finished her high school career in 2005 ranked 18th in steals in the history of Ohio women's basketball. Last season at East Carolina she averaged 6.7 points per game on a team that won the Conference USA tournament and qualified for the NCAA tournament.
The team is also expecting returning bench players Karen Brackman, Danyelle Echoles and Rachel Lantry to move in and help fill the void left by the graduating seniors of a year ago. "I think Karen Brackman is poised to step in and help us at the wing position," Nancy Winstel said according to the NKU Sports Information Web site.
Echoles and Lantry will also see increased playing time at that position.
The shortfall of this year's team, Winstel admits, is a lack of size. Eight out of 11 players are listed as guards. "We don't have the size that we've had in the past. It's so hard to find good post players from this area. We need our guards to step up and play inside," Winstel said,
One player who the coach said can help compensate for the size problem is Jessie Slack. "She's a very versatile player (who) can play several positions for us," Winstel said. When asked about this year's goals, Winstel would only say it is to win every game.
The preseason starts Nov. 1 as the team heads to Clifton to take on Cincinnati in an exhibition game. Regular season games begin Nov. 14 with a home game against Brescia.
The team will say farewell to Regents Hall Feb. 16, in a match-up with Indianapolis, before moving to The Bank of Kentucky Center next year.