Dent Schoolhouse a West-side fright fest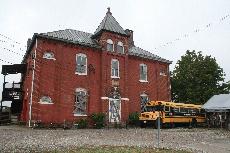 Butchered schoolchildren roam the hallways in agony. Charlie the janitor sweeps his way into your nightmares. Demented shop-class teachers crack bones with hammers, and a rejected and bloodied teen eternally wanders the school auditorium looking for a new prom date.
Sounds just like my high school!
When the school bell rings, this and more await you at the Dent School House, a haunted attraction in its second year of operation under co-owners Josh Wells and Bud Stross, two Northern Kentucky University students with a passion for all things disturbing.
For most of the year, the 1894 building just sits looking creepy and waiting for the right time to unleash its dark secrets on the world.
But for a few weekends each fall, the school house throws open its creaky doors for visitors, if they make it past the abandoned yellow school bus, meet nurses, teachers, students, cafeteria workers and, of course Charlie McFree (cue blood-curdling scream).
The haunted house, sponsored by WEBN, is built around the legend of Charlie the Janitor who sliced up a few dozen school kids between cleaning toilets and sweeping hallways in the 1950s.
Charlie, who Stross calls the "Mickey Mouse of horror in Cincinnati," lurks in his basement hideaway waiting to stage a killer come-back on the next unsuspecting student.
Stross, Wells and Stross' father Chuck Stross are the twisted minds behind the Dent School House curriculum. The three own 1031 Productions, a company that has haunted Northern Kentucky since the 1980s. It all started as a seasonal hobby between friends – Wells' dad and a few neighbors haunting their Fort Thomas, Ky. backyards on Halloween night.
But over the past two decades, the group has grown so big it needed a new home.
"We needed a new grave to put all our stuff," said Bud Stross, a senior Radio/TV major.
So they purchased "The Haunted House" in 2005, changed the name to "The Dent School House" and plunged into a massive overhaul of the attraction, focusing on the school theme and working year-round to train monsters, build new scenes and flesh out the meticulous detail that makes the Dent School House more than your average haunt.
So what's it like to be a college student and own your own haunted house?
Stressful, said Wells, a senior theater major. "It takes a toll. We've always done the yard haunts, but it's something completely different to step up full time and organize 40 plus actors and another 40 workers."
Sounds harrowing, but