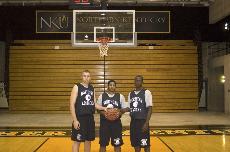 Center
Travis Rasso
, point guard
Billy Finnell
and forward
Vincent Humphrey
. The 2007-08 season begins Nov. 16 with the John L. Griffin/Lions Club Classic when the Norse will face UC-Clermont at Regents Hall.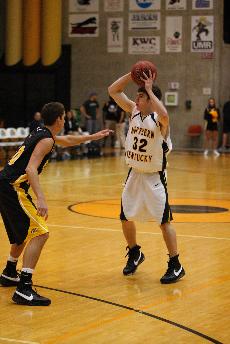 With the upcoming season of college hoops, Northern Kentucky University has some shoes to fill.
After finishing the 2006-07 season at 24-9 and reaching the regional finals in the NCAA Division II Tournament last March, the Norse will return three starters from a year ago.
Steven Wright was a pivotal player in the success of the Norse, but has since graduated from NKU.
Wright, a transfer from Bowling Green State University led the team in scoring with 16.8 points per game and shot 62-of-179 from the 3-point arc.
Wright played a key role for NKU and with Wright not here on this season's squad or fellow seniors Kevin Schappell (10.5 ppg) and James Cripe (7.8 ppg, 45 blocked shots), who were also teammates at Loveland High School, the Norse are going to have to look at new leadership this season.
Replacing these players is will be no easy task for Norse head coach Dave Bezold.
"We have returning players who need to step up their games, and we brought in some newcomers who will help as well," said Bezold according to the NKU Sports Information Web site.
"We lost three outstanding seniors in Steve, James Cripe and Kevin Schappell. Now it's time to move forward and allow the team to establish its own identity," he said.
Bezold will look to junior point guard Billy Finnell (7.5 ppg, team-leading 123 assists) to lead the Norse.
"Billy has a great deal of experience at the point, and he has made a lot of big shots for us the past two years," said Bezold on the NKU Sports Information Web site.
"We need him to become the leader for this team. Vince (Humphrey, 7.5 ppg) is such a solid player who does a lot of little things on the court to help the team win