VH1 Hip hop show honors Snoop Dogg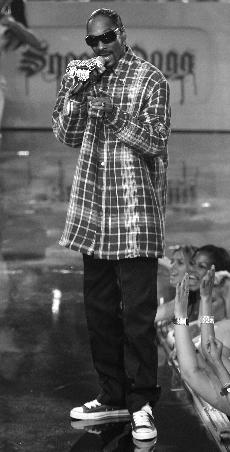 Snoop Dogg is usually quick to brag and boast, but even he felt humbled as he was honored for his rap achievements at VH1's fourth annual Hip Hop Honors.
The gangsta rapper was lauded along with Missy Elliott, the '80s rap trio Whoudini, A Tribe Called Quest, music executive Andre Harrell and producer Teddy Riley for creating the "New Jack Swing" sound, and Fab Five Freddy and Charlie Ahern for the groundbreaking movie "Wildstyle." The event aired on VH1 Oct. 8.
Among those on hand to congratulate Snoop backstage during the honors Oct. 4 were Q-Tip from Tribe and rap legend KRS-One, of whom Snoop asked, "Have I been a good student?" KRS-One gave him an approving nod.
"These are guys that I grew up wanting to be like and learning their words and dreaming and hoping and wishing, and now they know who I am and they respect me and they say that my work has put me in the position that I can be commended. It's unbelievable, I can't believe it," he told The Associated Press backstage.
The celebration was more like an old-school party than an awards ceremony. During the tribute to Whoudini, Nelly and Jermaine Dupri did '80s dance moves while Whoudini delivered its classic raps; Timbaland joined Eve, Ciara, Nelly Furtado and Keyshia Cole onstage to perform Elliott's hits as the singer/rapper/producer looked on.
Bow Wow, who, when he was just a child, performed onstage with Snoop, rapped with him again at the ceremony, while Busta Rhymes, Common and Lupe Fiasco performed Tribe's "Scenario."
Other stars present included LL Cool J, Ne-Yo, Chris Rock and host Tracy Morgan.
KRS-One, a previous honoree, said the Hip-Hop Honors event is important because it pays tribute to crucial figures in rap that are sometimes overlooked.
"Every time you validate a guy like KRS-One, you are validating a certain voice in hip-hop that doesn't get much validation or time on the airwaves," he said.
Snoop also noted that it brings much needed positive attention to a genre that's been criticized anew for promoting the negative.
"This is the best thing for us to happen for hip-hop, it's positive," he said. "These awards shows – never no violence it's never negative, never anything in the media the wrong way, it's always a great celebration of music and the artists and what they did."
KRS-One is hoping to harness the positivity from the Hip-Hop Honors for a new project: At the event, he was enlisting artists including Snoop Dogg to record a new version of his '80s message song "Self-Destruction," an all-star recording that then included acts like Queen Latifah and Big Daddy Kane. Snoop expressed interest as the two huddled together backstage.
"Hip-hop as a culture is getting a lot of backlash right now for its lyrics, for its public image and the people are crying out for more responsibility," said KRS-One as he explained the need for the new recording.
"Nelly, Snoop, 50, Jay-Z, you are the Big Daddy Kanes, the Queen Latifahs, the Stestasonics of today," he continued. "Let's get this movement together, that tells families in the United States, we never intended for your child to go to jail … the social ills of society, we never intended to highlight them."