Women's soccer falters, falls out of top 25 poll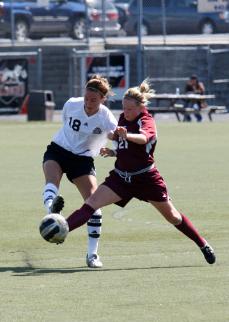 Tim Downer
After nine straight wins, the Northern Kentucky University Women's Soccer team has hit a skid, losing its third and fourth straight matches in a row against Indianapolis University Oct. 5, and St. Joeseph's College, Oct. 7.
Against Indy, the Norse fell behind early on a goal in the 14th minute of the game, putting the Greyhounds up 1-0.
Less than ten minutes later the Norse women found themselves facing a 3-0 deficit, which was too much to overcome.
The lead for the Greyhounds reached 4-0, before freshman forward Kendall Day notched a goal for the Norse off of a rebound from a missed shot by Lauren Franzen.
The Greyhounds recaptured their four goal lead in the 83rd minute, leading to their eventual 5-1 victory.
Indianapolis outshot NKU 18-7 and the five goals allowed by the Norse were the most given up by the women's team since 2000.
It was a wholly different story in the matchup with St. Joe's. The Norse dominated possession of the ball, outshooting their opponent 15-6 with a 8-1 edge in corner kicks. Despite this, the team was unable to score a goal.
Heartbreak came in the 89th minute, when St. Joe's scored with just 17 seconds left in regulation, giving the Norse their fourth straight loss.
The team will try to get back to its winning ways at home against Southern Indiana, Oct. 12 and Kentucky Wesleyan, Oct. 14.