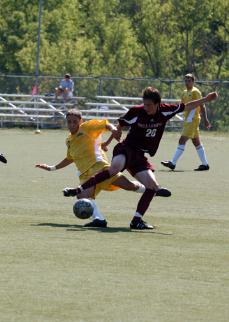 Tim Downer
The Northern Kentucky University Men's Soccer Team showed it can handle the pressures of being No. 1 in the nation quite well, posting a 1-0 win over a quality-opponent in Indianapolis University, Oct. 5 followed by a 3-1 win over St. Joseph's College, Oct. 7.
Against an Indy squad that had lost only two games going in, the Norse's stingy defense limited its opponent to just two shots on goal, making it an easy day for NKU goalkeeper, Michael Lavric. Braden Bishop was once again the hero on the offensive side of the ball, scoring the team's lone goal on an assist from Dan Impellizzeri. The 1-0 victory marked the 10th shutout in 14 games for the Norse.
In the matchup against St. Joe's, the Norse offense was dominant, out-shooting its opponent 23-6. Jason Larkin, Tony Ray and Tyler Kincaid all scored goals for the Norse, Braden Bishop added two assists, and goalkeeper Andy Ortman got the win in net. With the victory, NKU clinched a berth in the GLVC tournament, which begins Oct. 28.
After the weekend's matches, Coach John Basalyga talked about his team's performance.
"It was sort of a helter-skelter weekend. Injuries messed up our lineup