Volleyball knocks off No. 12 Cougars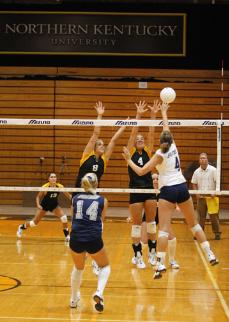 Tim Downer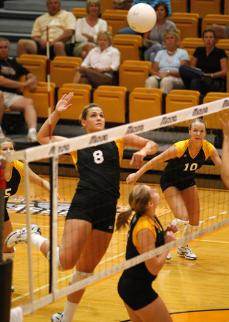 Tim Downer
Northern Kentucky University Women's Volleyball Team, ranked No. 24 nationally in Division II, had an astounding weekend on its home court Sept. 28 in Regent's Hall.
The Norse met nationally ranked No. 12 Southern Illinois at Edwardsville and came away with a four-game series win over the Cougars. But this was no ordinary win.
This was the first time the Norse has beaten SIUE since 2002, which ended the Cougars' 37 Great Lakes Valley Conference consecutive wins.
SIUE was also the fourth nationally-ranked team the Norse have defeated this season.
Liz Holmes and Kristina Eisenmenger had quite a game with Holmes having 23 kills and hitting .450 and Eisenmenger having 15 kills while hitting .448.
SIUE was held to a .245 hitting percentage and could not contend with the Norse's strong defense.
At Regents Hall again on Sept. 29, NKU swept Southern Indiana. The team hit .373 and was led by senior middle-hitter, Liz Holmes who stood out once again, providing 20 kills while hitting at a .704 clip.
The 20 kills moved Holmes into second place on the all-time kills list at NKU, behind Bethany Gastright (1998-01) 1,702 kills.
Her outstanding performance this weekend gained her the Baden/Great Lakes Valley Conference Player of the Week for the second time this season.
Junior Natalie Forbes finished with 54 assists, 11 digs and 3 aces in the series versus Southern Indiana. Kristina Eisenmenger and Tristen Dye contributed 13 kills each.
The Norse put together a strong performance over the weekend and it looks to continue its season with match-ups against Missouri-St. Louis, Oct. 4, Missouri-Rolla Oct. 5 and rival Quincy Oct. 6.
The team looks to add on to the impressive season heading towards the 2007 GLVC Tournament Championship, Nov. 8 thru Nov. 10.
NKU will return to Regents Hall to take on Rockhurst, Oct. 11 at 7 p.m.