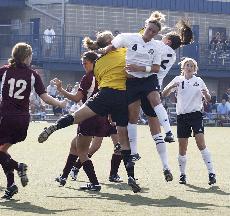 Tim Downer
The Northern Kentucky University Women's Soccer Team did not find it easy trying to win its 10th straight game Sept. 28 at the Town ' Country Sports Complex against Southern Illinois University at Edwardsville. After two losses, the Norse started its first losing streak of the season.
Thirty minutes into the game, NKU jumped out on top with a goal by freshman mid-fielder Morgan Price into the left post.
The Norse held this lead into the second half where the game turned in a hurry. SIUE ran off three straight goals in a span of 20 minutes, giving the Cougars a 3-1 lead in which it would never look back. The Norse did score in the 82nd minute as Ashley Warndorf knocked one in on the run from 12 yards. This made the deficit 3-2, but the Norse could not score again as NKU lost for the first time. The Norse outshot Edwardsville 15-11, but goalkeepers Kim Roady and Kaci Backs had five total saves for SIUE to conserve the victory.
The weekend didn't get any easier Sept. 30 as Quincy came into town in a battle for first in the Great Lakes Valley Conference.
A battle is exactly what this game was from the get-go as two top 20 teams went at it from start to finish. It was a scoreless game for 60 minutes because both goalies where at the top of their games. Jenna Kramer for NKU had five saves on the game and Toni Eye for Quincy had eight.
In the 61st minute it was Becky Fleming for Quincy who knocked in the corner-kick, which gave the Hawks a 1-0 lead. It was a very physical game, with 20 fouls and Quincy committing 16 of them.
Yet, Quincy overcame that and improved its record to 10-2-1. On the other side of the ball, NKU dropped its second straight game and is now 9-2 overall and 5-2 in conference play in fourth place. NKU will head back on the road next weekend looking to rebound against Indianapolis on Oct. 5 and St Joseph's Oct. 7.