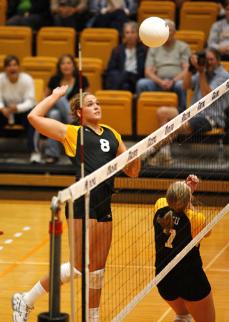 Tim Downer
The Northern Kentucky University Volleyball Team hit a bump in the road, losing four games to the Greyhounds from University of Indianapolis Sept. 22 at the Ruth Lilly Center in Indianapolis.
The Norse (15-4 overall, 4-2 in GLVC) who were No. 22 in last week's NCAA Division II poll, struggled against Indianapolis, who extended its current winning streak to 12 straight.
Since 2005, the Greyhounds have defeated the Norse five consecutive times -three of them just last season.
NKU Head Coach Carlos Chia had few words to describe the competition against Indianapolis. "There are many factors with the struggles," he said. "They are more physical than we are, and have better ball control. That pretty much sums it up."
Indianapolis cruised to an early advantage, hitting at a .424 average and setting up a 30-18 win in game one. NKU came into the best-of-five match No. 1 in the Great Lakes Valley Conference in hitting percentage, hit an abysmal .036 in the first game and followed with a .000 average to fall behind 2-0, in the second game.
Game three was a strong point for the Norse hitting a .447, notching out a 34-32 win. The Greyhounds had a 29-28 advantage and were a point away from winning the match, but senior middle-hitter Liz Holmes blocked a slam from Indianapolis middle-hitter Jessica Breeden to tie the game at 29.
Senior outside-hitter Tristen Dye and junior right-side hitter Kristina Eisenmenger helped stop match points from the Greyhounds. Holmes with the assist of freshman outside-hitter Chelsea Clark, blocked an attack by UI freshman outside-hitter Cheneta Morrison to give the Norse a 34-32 win.
Things were looking good for NKU in game four as it took an early 7-4 lead. Then the 'hounds were unleashed, going on a 12-3 run to take a 16-10 advantage.
The Norse pulled to within two, 17-15, but UI accelerated to a 5-1 run to go up 22-16, coasting to a 30-21 win.
"We didn't have the stamina to continue play," Chia said. "I could go into a whole lot of things, but can't pinpoint an exact answer. We will see them again in a couple of weeks, so we will be prepared."
Eisenmenger notched 15 kills for NKU, which hit a dismal .201 as a team. Holmes and Dye each had 13 kills, and Clark finished with six.
"I wouldn't say that Liz (Holmes) had an average game, because she played to the level of competition," said Chia on Holmes' performance. "Hopefully, we haven't peaked yet and we become a single team."
NKU plays host to No. 14 Southern Illinois University at Edwardsville Sept. 28 at 7 p.m. in the Regents Hall.
The Norse will also face University of Southern Indiana Sept. 29 at 3 p.m.