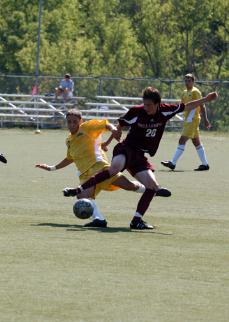 The nationally ranked No. 2 Northern Kentucky University Men's Soccer Team put on another dominating performance Sept. 16 against conference rival Bellarmine University, but was rewarded with only a 1-0 victory. The Norse controlled the ball for most of the game and ended up with 27 shots on goal-several of which hit off the post while Bellarmine could only muster three shots the entire game.
Freshman Steven Beattie, hailing from Dublin, Ireland, scored the lone goal for the Norse on a high-volley strike from distance in the 12th minute of play.
"I just caught it sweetly on the volley and thank God it went in and we got the win," Beattie said after the game.
Beattie was also involved in a skirmish with an opponent early in the second half.
It broke out after Beattie was whistled for a hard foul after a collision for the ball.
The Bellarmine player, who was knocked to the ground, got up and retaliated with what appeared to be a Zinedine Zidane-like head-butt to the chest, which sent Beattie to the turf. The referee in the game, however, did not call a foul or give out a penalty card. Beattie talked about the incident, post-game.
"We were in each other's face and he hits me with a head-but, the contact was minimal but I don't know why it wasn't called. But that's (soccer), you've got to move on."
During the remainder of the game, the Norse had several close-range shots on goal, but could not get it past last week's GLVC player of the week, Bellarmine goalkeeper, Justin Welply.
"He's only 5-foot-9 but he pulled off saves 6-foot-3 goalkeepers couldn't pull off," Beattie said of his opponent's performance.
After the game, Norse Head Coach John Basalyga talked about his team's national ranking and its goals for the season.
"It's a nice honor (being No. 2 in the nation), it keeps us focused, but I'd rather be No. 2 at the end of the season."
As for the team's goals, coach Basalyga said it would be nice to win a national championship, but he doesn't want to put undue pressure on his team, and just getting into the NCAA tournament would be a good accomplishment.
The team will try to keep its perfect record alive this weekend as it travels to face Missouri-Rolla Sept. 21, followed by Missouri-St. Louis Sept. 23.