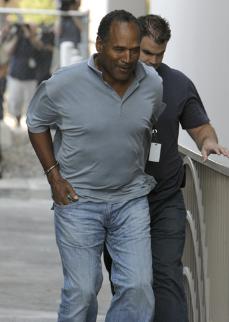 An apparent audiotape of O.J. Simpson's standoff with men he accused of stealing his memorabilia begins with the ex-NFL star demanding, "Don't let nobody out of here."
"Think you can steal my s— and sell it?" the voice identified as Simpson's said.
Simpson was arrested Sunday and booked on charges connected with what police described as a robbery at a Las Vegas hotel. In the audiotape released Sept. 17, by the celebrity news Web site TMZ.com, a man believed to be Simpson is heard shouting questions while other men yell orders to the people in the room.
The recording was made by Thomas Riccio, co-owner of the auction house Universal Rarities, according to TMZ. Simpson has said Riccio called him several weeks ago to tell him collectors were selling some of his items.
Another collector in the hotel room, Bruce Fromong, said the meeting was set up as if the men were customers, but when they arrived, it was clear something else was going on.
"The door burst open and they came in almost commando style, O.J. Simpson and some of his people, I guess you would call it, with guns drawn," Fromong told ABC's "Good Morning America" Monday. "O.J. at that time was saying, 'I want my stuff. I want my stuff.'
"The thing in my mind as soon as I saw him, I'm thinking, 'O.J., how can you be this dumb? You're in enough trouble.'"
Fromong said Simpson later left him a voice mail message telling him some of Fromong's things were "mixed up" with his and asking how he could give them back.
"It's like a bad dream," Beardsley said. "I'm sad that O.J. is in custody."
Simpson has said he was accompanied by men he met at a wedding cocktail party, and that they took the collectibles.
It was merely a confrontation with no guns, Simpson said. He said autographed sports collectibles, his Hall of Fame certificate, a photograph with former FBI director J. Edgar Hoover and video from his first wedding were all his, and that they were stolen from him and were about to be fenced by unethical collectors.
The items likely belonged to Simpson at one point, Fromong said, "but these were things that belonged to him a long time ago."
Police said they weren't sure who now owned the memorabilia.
"Whether or not the property belonged to Mr. Simpson or not is still in debate," Lt. Clint Nichols said Sunday. "Having said that, the manner in which this property was taken, we have a responsibility to look into that, irregardless of who the property belonged to."
After being whisked away in handcuffs, Simpson was booked Sunday night on two counts of robbery with a deadly weapon, two counts of assault with a deadly weapon, and conspiracy to commit a crime and burglary with a firearm, police said.
The district attorney said he expected Simpson to ultimately be charged with seven felonies and one gross misdemeanor. If convicted, Simpson could face up to 30 years in prison on each robbery count.
A judge ordered Simpson held without bail. Las Vegas court information officer Michael Sommermeyer said Simpson's arraignment was set for Wednesday, with a bail hearing to be held after that.
Simpson attorney Yale Galanter said Monday he hoped to get Simpson released before then.Mr. Simpson is not guilty of these charges," Galanter said. He declined to say whether he had met with police and prosecutors.
"We believe it is an extremely defensible case based on conflicting witness statements, flip-flopping by witnesses and witnesses making deals with the government to flip," Galanter said Sunday.
Beardsley blamed the incident on Riccio, who he claims told Simpson that his property was in the room in Las Vegas.
"If they don't charge Riccio I will be very upset. That guy lied to O.J. and got him all pumped up," he said.
Simpson, 60, told the AP that he didn't call the police to help reclaim the items because he has found the police unresponsive to him ever since his ex-wife Nicole Brown Simpson and her friend Ron Goldman were killed in 1994. Simpson was acquitted of murder charges but found liable in a wrongful death civil trial.
"The police, since my trouble, have not worked out for me," Simpson said.
Police said they had no information to indicate Simpson was armed during the hotel confrontation last week. Fromong also said Simpson was unarmed: "Never at any time was I ever, did I feel threatened by O.J.," he said.
Police seized two firearms believed to involved in the robbery along with sports memorabilia, mostly signed by Simpson. They also said they recovered collectible baseballs and Joe Montana cleats at private residences early Sunday after serving three search warrants.
Walter Alexander, 46, of Mesa, Ariz., was arrested Saturday night on two counts of robbery with a deadly weapon, two counts of assault with a deadly weapon, conspiracy to commit robbery and burglary with a deadly weapon. Alexander, who was described as one of Simpson's golfing buddies, was released without bail Saturday night.
Robert Dennis Rentzer, a Los Angeles lawyer representing Alexander, said he was able to arrange his client's release but wasn't familiar with the allegations.
Police are seeking four other men: Las Vegas residents Clarence Stewart, 53, and Michael McClinton, 49; Tom Scotto, of unknown age and hometown, and another man who was not identified.
Simpson, a Heisman Trophy winner and actor, lives near Miami and has been a tabloid staple since his ex-wife and Goldman were killed.
Goldman's father, Fred Goldman, welcomed the possibility that Simpson could go to prison.
"How wonderful," he told CBS's "The Early Show" Monday. "A lot of years too late, however. I would have much preferred him found guilty of Ron and Nicole's death and then put either to death or in jail then. But frankly to see him ultimately or potentially go to jail – that's great."
Simpson's arrest came just days after the Goldman family published a book that Simpson had written under the title "If I Did It" about how he would have committed the killings of his ex-wife and Goldman had he actually done it.
After a deal for Simpson to publish it fell through, a federal bankruptcy judge awarded the book's rights to the Goldman family, who retitled it "If I Did It: The Confessions of the Killer." During the weekend, the book was the hottest seller in the country, hitting No. 1 on Amazon.com.
Associated Press Special Correspondent Linda Deutsch in Los Angeles contributed to this report.