Late scoring in game secures Norse success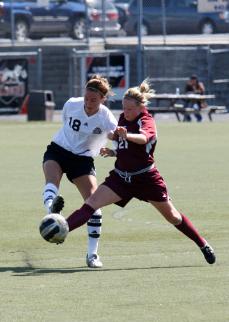 Wins are becoming a commodity for the Northern Kentucky University's Women's Soccer Team. The weekend consisted of two heart-stopping wins, beginning with a 2-1 win over Ashland Sept. 14 and ending with a 2-1 victory over conference foe Bellarmine University Sept. 16 at the Town and Country Complex in Wilder, Ky.
For a while it looked like NKU might be destined for its first loss of the year against BU, but the Norse was not going to let that happen. Bellarmine took an early 1-0 lead, 35 minutes into the game as Caitlin Duffy kicked a penalty kick through the net.
After that goal NKU took several shots but just couldn't convert.
The Norse out shot Bellarmine 22-4, yet didn't score its first goal until the 72nd minute of the game when freshman Caitlyn Mueller tied the game with her first career goal, a header out of the corner. The scoring remained tied until the 109th minute in double overtime.
At this point, NKU had a two on one breakaway and Lauren Franzen received a pass from Cara Alldred and Franzen snuck the winning goal inside the left post.
It might have been the Norse's toughest win of the year as it improved to 3-0 in the Great Lakes Valley Conference and 7-0 overall. Bellarmine fell to 1-2 in the conference and 5-3 overall.
This win came on the heels of a 2-1 win over Ashland on Sept. 14. Lately for NKU it's someone different stepping up and it was Kara Costello's first collegiate goal which was the difference in the win.
Jayme Light added with her conference-leading 6th goal of the season.
Jenna Kramer had two saves in the game as she won her third then fourth games in a row at the net for the Norse last weekend.
NKU will take its show and perfect record back on the road next weekend.
The Norse are all the way up to No. 12 in the national poll. NKU will head to Missouri to face Missouri-Rolla Sept. 21 and Missouri-St Louis Sept. 23.