Volleyball slams past No. 7 Hillsdale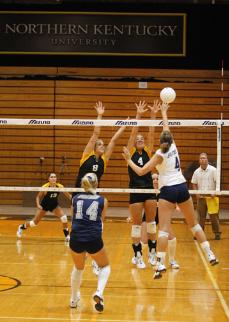 Tim Downer
Traveling to Ashland, Ohio, Sept. 7 through 9, the Northern Kentucky University Women's Volleyball Team put major numbers on the board at the Ashland Invitational.
The weekend started with a huge victory over Hillsdale (Michigan), which was nationally ranked No. 7 in the NCAA Division II poll.
NKU, ranked No. 19 in the poll released Sept. 10, held its own and pulled a win in four games. Key players in this match were seniors Liz Holmes and Tristen Dye who had 19 kills each. Dye also helped out the Norse with 15 digs. Natalie Forbes aided in Norse victory by supplying 61 assists, nine digs and six kills. Kristina Eisenmenger contributed immensely during game four by providing a kill that tied the teams at 29 and then teaming up with freshman Morgan Elyea to block an attack and give the Norse a victory over the nationally No. 7 ranked GLIAC Chargers.
As for the rest of the tournament, the Norse teamed up against No. 13 Grand Valley State Sept. 7.
The Norse led with a first-game win, but could not compete with towering opponents and unfortunately fell during the third game, hitting only a .053 percentage.
Sept. 10 proved to be a new day for the Norse. The women started the day with a victory against Kentucky Wesleyan, hitting as a team with a .473 average. Again, senior leaders Holmes and Dye put another notch in their belts as being key players on this Norse team. The two together in the Kentucky Wesleyan game were good for 23 kills, nine aces and Dye added 14 digs.
Eisenmenger and Forbes were also leaders in this game with eight kills and 42 assists and five digs respectively. This great play led to the last match of the invitational against Wheeling Jesuit, 30-23, 30-25, 30-28.
The Norse swept all three games and improved its overall record to 12-2. Dye added two clutch kills to tie the third game and give NKU the eventual sweep.