University announces upcoming construction.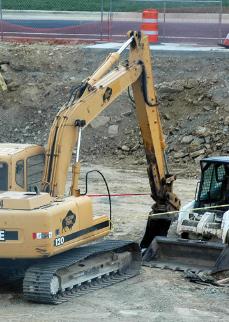 Dylan Bauer
Though new buildings are popping up everywhere on campus, Northern Kentucky University is still seven structures short compared to other competing academic institutions, according to Larry Blake, assistant vice president of facilities management.
The university plans to accommodate students' needs with the Campus Master Plan, which was updated seven years ago. Blake said changes are made to the plan about every 7-10 years, so they are right on time.
The university set aside $250,000 in funding in the 2006-2007 budget to update the Campus Master Plan. Part of the plan states that the university will be planned to accommodate 14,000 students in the near term and even more in the long term.
According to Blake, the plan is designed to help the space deficit on campus.
The process for the plan is scheduled to start in September, Blake said. The university is working on putting a committee together for the plan and they would hold open meetings to let students express their concerns.
According to Mary Paula Schuh, director of campus planning, the university submitted a list of budgeting requests in spring 2007, but construction has not started. Most of the upcoming projects are set to be funded by the state.
Here is a preview of what is set to come:
Renovating the Albright Health Center and the Business Education and Psychology building and fixing their center roofs.
Renovating the mechanical systems in the University Center.
Constructing a new College of Business Building, a Health Innovations Center and a new center for legal education. No tentative plans on location have been set.
Relocating the Early Childcare Center from the BEP building to the community work building located near the Lakeside facility.
Renovating the Fine Arts Center, the old power plant, the underground electrical infrastructure and the elevators in Landrum.