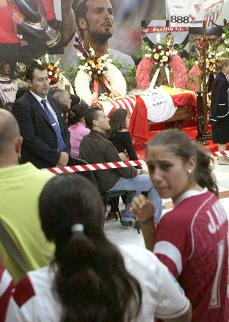 Sevilla CF, Pool/AP Photo
Cardiac problems such as an abnormal heartbeat are exacerbated by rigorous exercise in a way that can be fatal in athletes, and regular testing for the problem could save lives, doctors at a heart conference said Sept. 2.
Italy is the only country that mandates heart screening of all its professional athletes, Dr. Domenico Corrado of the University of Padua said at the European Society for Cardiology meeting in Vienna.
Since 1981, Italian authorities have run heart checks on all competing athletes. The incidence of sudden, fatal heart attacks has dropped from four cases per 100,000 to 0.4 cases per 100,000.
Without testing, athletes genetically predisposed to having an irregular heartbeat might not be aware of their condition until it's too late, doctors said. Adrenaline produced during exercise may overstimulate the heart, causing it to essentially short-circuit.
"Sport acts as a trigger," Corrado said in research presented at the meeting.
Corrado said he had no ties to companies involved in screening athletes. The research was funded by the Italian government.
Last week, Antonio Puerta became the latest high-profile soccer player to die while competing.
After the 22-year-old Sevilla midfielder lost consciousness and fell, doctors treated him on the field and he walked off, but then had a heart attack in the locker room and another in the emergency room of a Seville hospital.
He died three days later.
A day after Puerta's death, former Zambia striker Chaswe Nsofwa died minutes after collapsing on the field during a training session with Israeli club Hapoel Beersheba. The 27-year-old Nsofwa was given electric shocks and an external pacemaker but could not be revived by paramedics.
On Aug. 24, 16-year-old Anton Reid of English League One team Walsall died after collapsing on the field.
Because they have been exercising vigorously, many athletes who collapse during competition do not have enough oxygen in their bodies to allow the heart to start pumping again, even if a defibrillator is used to try to restart their heart.
FIFA, world soccer's governing body, deemed the risk of irregular heartbeats to be so great that before last year's World Cup in Berlin, its medical committee demanded that all players undergo heart scans. Following the recent deaths, FIFA said it was considering expanding health checks.
"Athletes may have a silent but important heart disease that's not … manifest," said Dr. Douglas Zipes, a cardiologist at Indiana University School of Medicine. Though little data exist, Zipes said that a genetic disorder may cause some athletes' hearts to get abnormally big when they train.
Corrado estimated that the cost of Italy's heart screening program is about $82 per athlete. Other countries are not convinced that screening is worth the cost, given how few athletes are at risk. Concerns have been raised about the effectiveness of the scan, which relies largely on echocardiograms, a test that shows if the heart is pumping normally.
"As a screening test, it's very imperfect," said Dr. Gordon Tomaselli, chief of cardiology at Johns Hopkins University and spokesman for the American Heart Association. "It can pick up many of the things that cause sudden death, but not all of them."
Doctors said that more awareness about the potential dangers is key to preventing future deaths, though not all athletes with suspicious tests will collapse on the field.
"Coaches should pay more attention to their players' symptoms," Zipes said. "If an athlete is complaining about chest pains or shortness of breath, those are warning signs that should not be ignored."
Associated Press sports writer Chris Lehourites in London contributed to this report.