Norse soccer teams start season with powerful kick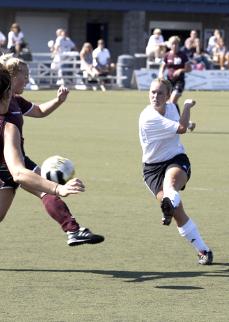 Tim Downer
Both the Northern Kentucky University Men's and Women's Soccer Teams came out strong in the opening of the season and stand with a record of 2-0.
Aug. 24 to 26 was the John Toebben Classic presented by National City at the Town ' Country Sports Complex in Wilder, Ky.
In the women's first game, it defeated Tiffin University 2-0 game.
In the next game of the Classic, junior Lauren Franzen made three goals, earning a hat trick, and had one assist, leading the Norse to a 4-0 victory.
It took NKU until the second half to score, but its defense remained strong throughout the game, only allowing Concord (W. Va.) one shot attempted.
Franzen's hat trick led her to be named the Great Lakes Valley Conference Player of the Week.
"It was a great first weekend, both for Lauren and for the team," said NKU Head Coach Bob Sheehan, according to NKU Athletics. "Lauren showed great composure in the penalty area to finish three goals and add an assist."
The women will travel to play Findlay at 2 p.m. Aug. 31.
In the men's opener, they won 4-0 against West Virginia Wesleyan College. In the next game, a penalty kick in the last few minutes by sophomore Braden Bishop sealed the deal with the Norse winning 1-0.
Truman State's Ben Green was penalized with a yellow card in the 84th minute for a shove in the back against NKU's freshman Steven Beattie while in the 18-yard box.
The Bulldogs ended up having to play the final six minutes of the game one man short because Josh Weir was issued a red card and thrown out of the match.
This left Concord with one man short on the field.
The Norse's goalkeeper Andy Ortman made two saves that game and marked his 13th career shutout.
The No. 8 nationally ranked men's team will play a match at 4:30 p.m., Aug. 31, at Findlay.