Casino Night's Vegas glitz gets new students involved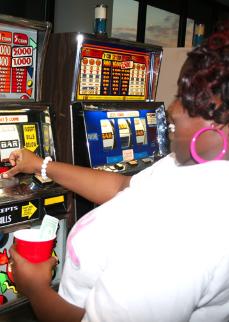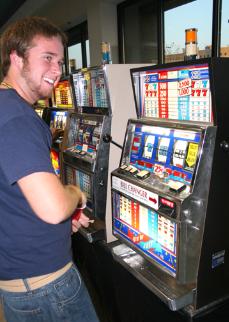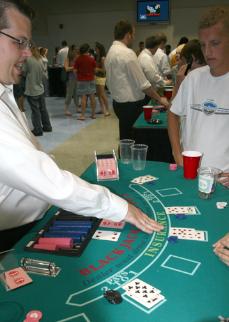 Ca-ching sang the handles on the shiny slot machines.
"I won!" freshman Mahogany Thompson screamed.
The sound of clinking coins and Frank Sinatra songs filled Norse Commons Aug. 26 as Welcome Week's Casino Night got into full swing.
High rollers got a chance to mingle with fellow students while experiencing a little gambling fun, playing blackjack, roulette, craps, raffles and – of course – slot machines.
While real money wasn't exchanged (a set amount of tokens was given to students as they walked in) ,real prizes were. Winning at the slot machines and gaming tables entitled players to more chances for raffle prizes. Throughout the night, the Activities Programming Board awarded Papa John's, Starbucks, Kroger and Mastercard gift certificates.
"Slot machines are the big thing tonight," said sophomore Zach Foy. "they're easy – you just pull the trigger."
Foy, a member of Sigma Phi Epsilon, raised funds with his fraternity brothers for their organization by working as dealers for the night and shuffling cards with practiced gusto.
The APB hosted the free event as part of the Las Vegas-themed "Welcome to Fabulous Northern Kentucky University." Besides Casino Night, the two weeks of events included "Norse Vegas," where loan and bank representatives spoke about money management for college students, and a performance from mentalist Chris Hoffman (this guy can even hammer a nail into his nose).
But back at Casino Night, about a hundred students, many of them freshmen, milled around the black satin-covered gaming tables. Despite the regular Norse Commons tables pushed into a corner and stacked high with mustard and ketchup bottles, a classier-than-usual mood pervaded the room.
Girls in sky-high heels leaned over tables to follow their cards, guys in crisp white dress shirts practiced their dealing techniques and some just sat back and watched while eating free chicken wings – a Northern Kentucky twist those Las Vegas bookies might want to consider.
Many experienced gambling for the first time, but for most, the socialization was the highlight of the night.
"It's a great chance for everyone to get together and mingle," said Kanita House, a junior management major and APB executive director.
Thompson, who lives in the Woodcrest Apartments and hit the slot-machine jackpot twice, agreed.
"It's a chance for the freshmen to meet so they don't feel so left out the first few weeks," she said.