No football team here? Take a trip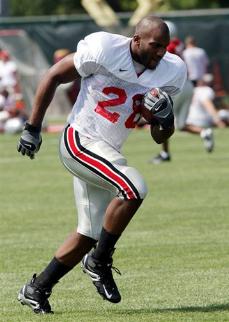 Associated Press
The time is upon us yet again. Students throughout the country are preparing to move back to school and kick off the school year, but maybe more importantly, are looking forward to the things that go along with the start of school.
Sure, there's going to be a handful of students who are eager to jump right back on the horse in pursuit of a higher education (shocking to some of us, I know), but for those of us who are just looking at it as another school year, what is it that we look forward to?
There is the party scene that many of us need to catch up on, getting back with your friends, new rush seasons for the Greeks and of course the overall college atmosphere that we have missed while living at home. All are a major part of what we look forward to each year, but for many out there, there is something even bigger that goes along with the start of school.
College football season is upon us.
Although those at Northern Kentucky University can't take part in cheering on their school year after year on the gridiron, that certainly shouldn't stop you from getting off the couch and seeing college football in the area.
From the University of Cincinnati, to the University of Louisville and University of Kentucky, you don't have to look hard to find big time college football to take in, and also some smaller schools that are worth checking out.
So which team is the best to check out? Depending on if you base your pick on distance, game atmosphere, pre-game/post-game festivities or just the competitive nature of the team itself, the Tri-State area has you covered.
For those die-hards who just love to watch great football, you might want to check out a team up north in Ohio-one that since 1955 has had an NCAA best 49 winning seasons and has won five national championships. No, I'm not talking about the Buckeyes from Columbus, but a team in Springfield, Ohio.
The Wittenberg University Tigers, a Division III school, has consistently been one of the premier football programs in the country, its 49 winning seasons a record in all of NCAA, and being located just 88 miles away makes it worthwhile to check out.
A great game atmosphere makes for a much more enjoyable experience, and these past few years have made it all the more fun to watch local college football as both Kentucky and Ohio have been enjoying national attention.
Both the Buckeyes of Ohio State and the Louisville Cardinals have been mentioned as not only potential National Championship contenders, but also Heisman Trophy winners, as Troy Smith won last year for OSU, and now Brian Brohm of Louisville is mentioned as a potential candidate.
In looking for a great pre and post-game location for games, head back up to Columbus, and take part in the local favorite for OSU tailgaters called "Hineygate."
Located in the parking lot of the Holiday Inn, "Hineygate" has been described by one ESPN analyst as "one of the best parties in college football," and has been the spot for OSU tailgaters for years.
Although those are just personal picks, here is a list of local colleges (all within 3 hours) and their distances to the stadiums from NKU's campus so you can check them out and make your own decisions.
1. University of Cincinnati Distance 10.27 miles
2. University of Dayton (Dayton, OH) Distance 60.01 miles
3. University of Kentucky (Lexington, KY) Distance 85.38 miles
4. Wittenberg University (Springfield, OH) Distance 88.80 miles
5. Morehead State Univer-sity (Morehead, KY) Distance 96.71 miles
6. University of Louisville (Louisville, KY) Distance 103.41 miles
7. Eastern Kentucky Uni- versity (Richmond, KY) Distance 109.02 miles
8. The Ohio State Univer-sity (Columbus, OH) Distance 115.71 miles
9. Marshall University (Huntington, W. Va.) Distance 147.46 miles