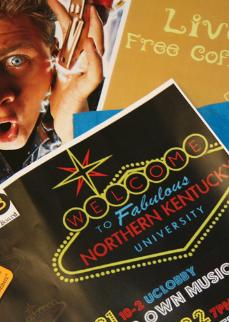 Although Welcome Week is already in full swing, students can still look forward to a world of free food and events ranging from Casino Night to interacting with a "metalist."
With so much to do, students needn't worry about homework for weeks. So if the only thing you're willing to get a head start on so early in the semester is procrastinating, choose one of the following events and relax before the assignments really start rolling in:
Mentalist Wayne Hoffman, Sponsored by the Activities Programming Board
"This is not your average magic show. Wayne Hoffman will get in your head as he predicts your behavior and challenges your perception of reality and what is possible," said Holly Caudill-Grote, coordinator of New Student Orientation and Parent Programs and chair of the Welcome Week Committee. Watch as he hammers a nail into his nose without the aid of alcohol or a double-dog dare.
Random Acts of Kindness, Sponsored by Interfaith Council
"Give a sticker to some one who has been kind to you. Let them know they are appreciated. This is to encourage students to learn Random Acts of Kindness is greatly appreciated by others and to remember doing good deeds is important," as Caudill-Grote puts it. And there's free food, the best act of kindness.
Norse Vegas
Reflecting this year's theme of the famous Las Vegas sign, now made to read "Welcome to Fabulous Northern Kentucky University," the Norse Vegas event will feature loan officers and representatives from banks who will give a number of presentations on topics pertaining to college students.
Amy Wylie, assistant dean of students, said this event will be very helpful for old and new college students. "It'll educate them on how to manage their money better and to be fiscally responsible," she said. "Many students didn't know where to go to get the help they needed, and this event will show them."
Day of Service
Scripps Howard Center and University Housing have teamed up to give students a chance to register and move into a variety of different service projects. "We feel it is important to have a community service event during Welcome Week in order for students to give back to the community," says Caudill-Grote.
Casino Night, Sponsored by APB
Norse Commons will be transformed into a full-service casino complete with blackjack, craps, and slots. Students will be able to spend their "money" on buying prizes while enjoying free food.
Freshfusion
The annual ending of Welcome Week will include a welcome for new students by President James Votruba, SGA President Alyse Bender and a performance by the 2007 Student Orientation Leaders. The keynote speaker, Judson Laipply, is famous for his "Evolution of Dance" performance seen on "The Today Show" and across the Internet. There are prizes as well, including the grand prize of a Dell laptop. Following the presentations, students will be taken to Loch Norse where over 60 organizations will be waiting.
"It is unbelievable to see so many students all together for an event that celebrates new students and really welcomes them to the NKU community," Caudill said.
Wylie agrees. "By the end of the week, students feel more connected," she said. "The more you feel connected the more likely you'll want to stay at NKU."