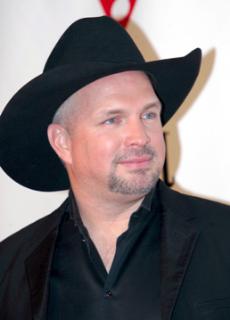 Country singer Garth Brooks is back after a seven year hiatus. Crap. People Magazine reports the 45-year-old is releasing a new single and a new greatest hits collection. "Sure I'm scared to death – I'm rusty and I've seen these young guys," Brooks said. "But I'm a competitor and when it's game day you start competing." I can see it now: Good ole' Garth, Kenny Chesney and Keith Urban will line up on a CMT special to see who's wearing the tightest pants, dorkiest chest-showing tops and whitest hats. Winner gets to sing "Why's my woman got me feelin' so dad gum blue?" Look for that fictional song and his real single "More than a Memory" Aug. 27. Yee-haw.
Let's hear it for the Coreys. Twenty years after Corey Haim and Corey Feldman rocked our kiddie worlds in awesome '80s classics such as "The Lost Boys" and "The Goonies," the wacky twosome is back in its new A'E TV series "The Two Coreys," OK! Magazine reports. The magazine caught up with Haim recently at Planet Hollywood in New York City. "I wanted to show people who I am," he told OK! about doing the reality show. "I have nothing to hide. All of my stuff is out there anyway; it's been out there for years." Haim added, "I hope this gives me a whole other group of fans, hopefully younger." One word: Ewwwwwwwwwwwww. Lay off the tweens, Haim!
Ahh, yes. The first Lindsay Lohan update of the semester. Last we heard, the DUI queen was checked into the 12-step program at Utah's Cirque Lodge rehab facility after her July 24 arrest for possession of cocaine and driving under the influence with a suspended license. In light of this setback, Lohan's been developing a heretofore unheard of talent to help her on the hard, long road to sobriety: needlepoint. A source told the Chicago Sun-Times Lohan is learning to needlepoint and is making a quilt to "remind her to stay sober." (Guess the arrests weren't enough to make her planner.) The actress has supposedly stitched patches with AA buzzwords and a liquor bottle with a red line across it. Good job, Linds. Don't forget the anti-cocaine block.
Quotes of the week:
"It's kind of creepy that that many people have seen me naked. I feel like I'm the world's biggest porn star." So said 17-year-old Spencer Elden, who appeared as a naked baby on an iconic Nirvana album cover, to MTV.com (People Magazine)
"At the end of the video, we're kissing and it's raining blood – and for me, that was one of the most romantic moments of my entire life." Evan Rachel Wood, on shooting the controversial video "Heart-Shaped Glasses" with boyfriend Marilyn Manson, to GQ. (People Magazine)