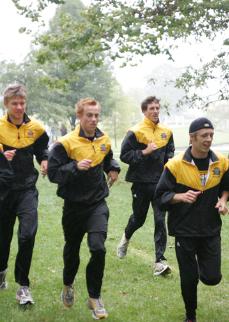 Northerner file photo
Men's Soccer
Coming off an outstanding season, the 2007 Northern Kentucky University Men's Soccer Team seeks to exceed last season's finish, the best in NKU men's soccer history. The Norse is coming off its first NCAA Great Lakes Regional title, followed by an NCAA Division II national quarterfinals appearance. This upcoming season, the team is trying to accomplish all of that again and more.
NKU has had to deal with coming within one game of a national championship appearance for an entire year and the team's anxious to take the field again. However, unlike last season, the Norse will not be able to sneak up on anyone because the Norse is favored to win almost every game.
The men's soccer team was picked second in the Great Lakes Valley Conference pre-season poll — only six points shy of first place. They received four first-place votes, falling just short of last year's regular season GLVC champion Southern Illinois at Edwardsville, which received six first-place votes.
There's several key players returning from last year's team, including All-GLVC players Tony Capurro, Andy Bacon, Tony Ray, Andy Ortman and Dan Impellizzeri.
This season is the best opportunity for the Norse to win a National Championship as nine seniors are returning who will provide the experience and leadership that is necessary to get the team to the top.
Head Coach John Basalyga hired Sam Miller as his new assistant coach. Miller played soccer at the University of Cincinnati and professionally for the Cincinnati Kings. He also played soccer at Anderson High School with Dan Impellizzeri, where he was a captain for two seasons.
Other additions to the team include Steven Beattie from Dublin, Ireland, and brothers Matthew and Michael Lavric from Gahanna, Ohio. Michael Lavric was named Ohio Player of the Year, All-Region and All-American by the National Soccer Coaches Association of America during his high school senior season. He also set an Ohio state soccer record by recording seventeen straight shutouts.
The Norse will begin its journey in becoming NCAA Division II Men's Soccer Champions against West Virginia Wesleyan at 8:30 p.m. Aug. 24 at the Town ' Country Sports Complex in Wilder.
Women's Soccer
Coming off of a successful 2006 season the NKU Women's Soccer team is setting its sights on returning to the NCAA Tournament. After finishing 13-4 overall last year and losing a heartbreaker in the first round of the GLVC Tournament from a penalty kick shootout, the lady Norse are shooting for bigger and better things.
With only two seniors, the Norse will be counting on underclassmen to get the job done. Out of the 23 players on the roster, 18 of them are freshman and sophomores, with some local recruits who should help right a way.
Kara Costello and Caitlyn Mueller attended Mercy High School and both where four-year letter winners for the Bobcats. Kendall Day, a graduate of Lakota East High School, earned all Greater Miami Conference and All-City accolades. Megan Smith graduated from Batavia High School. She led the Bulldogs to the Southern Buckeye championships all four years of her career and earned First Team All-City and All-League honors.
The two seniors are Jayme Light from Cincinnati Colerain and Cara Alldred from Cincinnati McNicholas. Both will captain the Norse. Light was last years GLVC's second leading scorer. She has 25 career goals, which puts her in 10th place on the all -time NKU scoring list.
NKU is ranked fourth out of 14 in the preseason pool, voted on by the coaches. Quincy received 12 of the first-place votes and was voted no. 1, followed by Indianapolis then SIU Edwardsville and the NKU Norse rounding out the top four.
The Norse will open play up Aug. 24 against Tiffin in the John Toebben Classic presented by National City at the Town ' Country Sports Complex in Wilder Ky. Coach Bob Sheehan, in his 11th year, is looking to get the Norse back to the NCAA Tournament and, barring the injuries that occurred last year with the senior captains and new recruits, it should be an exciting season.
Volleyball
The NKU Volleyball team, along with Coach Carlos Chia, has been training intensely this summer for the upcoming season.
Coming off of a record of 20-13 in 2006, and second place in the Great Lakes Valley Conference preseason poll (tied with Indianapolis), the team is looking to pick up its 15th consecutive 20-win season. With a strong senior team leading the way, Liz Holmes, Tristen Dye, Elizabeth Droessler and Brittany Dixon hope to extend their regular season into the GLVC championship later this fall.
One senior to keep an eye on is middle hitter Liz Holmes. Holmes is on the brink of making history of her own, entering the season with 1,295 kills, ranking her eighth in NKU history and just 408 short of the record. She is close to becoming the only three-time All-American at NKU. Holmes led the GLVC in hitting percentage with a .396, which ranked her third nationally in 2006.
Other key players to watch for are two transfer students: junior Katie Latenser and sophomore Laurie Weber. Latenser, a libero from Johnson County Community College, is a two-time NJCAA All-American player and Weber is a defense specialist from the University of Cincinnati.
Also, Dye earned a spot on the All-GLVC first-team last year with 399 kills, 314 digs and 39 aces.
Those women may seem to be strictly into training and competitions, but they also keep close tabs on their school work. Recently NKU Volleyball was awarded the American Volleyball Coaches Association Team Academic Award for maintaining a cumulative 3.49 grade point average for the 2006 season.
The Norse will head south Aug. 24 for the North Alabama Tournament and it will return to its home crowd to open the season at 7 p.m. Aug. 28 in Regents Hall.
Cross Country
This year looks promising for both the Men and Women's Cross Country Teams as both have added strong recruits to the rosters in hopes of attaining championship status.
The men's team finished strong last year, going to the NCAA Division II National Championship race in Pensacola, Fla., finishing 22nd overall. Sophomore Zach Koehler led the charge for the Norse, finishing an impressive 72nd with a time of 31 minutes and 18 seconds.
The Norse is returning four of the top seven finishers from the national championship race and have added three recruits.
Ryne Smith, a 2007 graduate of Scott High School, was runner-up in the Kentucky State Cross Country Race and was named the Northern Kentucky Athletic Conference Runner of Year.
Eric Dwyer, a 2007 graduate of St. Henry High School, lettered seven times for the Crusaders, helping the team win four regional titles and a state title. He was also a First Team All-State selection in 2005 and 2006.
Drew Harris, a 2007 graduate of Campbell County High School, has won four all-region awards, 2006 Second Team All-State and three All-State honorable mentions. He was named the Northern Kentucky Athletic Conference Athlete of the Year in 2006.
By adding those three runners to the returning squad, the Norse seeks to improve upon its finish at the National Championship and establish itself as one of the best teams in the country.
The women's team finished third at the Great Lakes Valley Conference Championship Race. It will be led by senior Julianne Hoekzema, who placed sixth at the GLVC Championship.
Four recruits are joining the returning nine of the starters from last years' team.
Lisa Ruth, a 2006 graduate of Bishop Brossart High School, was the LaRosa's MVP for track and the Northern Kentucky top field athlete.
Chelsea Cantrall, a 2007 graduate of Walton-Verona High School, helped lead the Bearcats to a 2006 Class A state championship. She was the runner-up in the North Ce
ntral Kentucky Conference Championships and was an academic All-State selection her junior and senior years.
Ashley Jones, a graduate of Highlands High School, made a major impact on a team that finished first or second in each of her seasons.
Sarah Koehler, a graduate of Ryle High School, was the MVP three of her five seasons there and also finished 10th in the region her senior season. She is the sister of top men's runner Zach Koehler.
The women's team is hoping to capture the GLVC title and advance to the National Championships.
The first meet will be Sept. 1 in Dayton, Ohio.