Construction projects still hot and heavy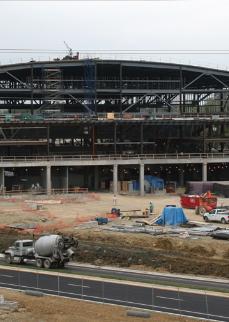 Lacey Elam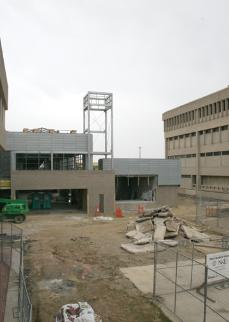 Lacey Elam
The summer heat hasn't halted any of the continuing construction projects at Northern Kentucky University. In fact, many of them are right on schedule.
Driving down Nunn Drive, the formation of the Bank of Kentucky Arena is hard to miss.
According to Steve Nienaber, director of construction management, the arena is still on schedule for completion in fall 2008. However, the arena will be open briefly for the May 2008 commencement.
"The plan is to have a soft opening for the commencement and then close the building to complete construction in the summer," Nienaber said.
Concession spaces, the athletic offices and locker rooms, the suites and the management office spaces will not be open by May, he added.
However, another project set to open is the Student Union, located next to the University Center. According to Nienaber, the union is still on schedule to open in Fall 08.
Chartwells will have access to the building next summer so they can test on the kitchen equipment, Nienaber said.
To help with the continuing parking problem on campus, a third parking garage is in the works for summer 2008, which would be located on University Drive across from the Bank of Kentucky Arena. A bridge will connect the arena to the parking garage. According to an e-mail from Ken Ramey, vice president of administration and finance, Parking Lot J between the Applied Science and Technology building, Loch Norse and Nunn Drive will be reconfigured to provide logical traffic flow.