Sports pay tribute to VA Tech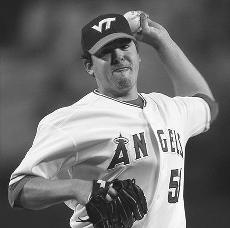 Mark Avery, Associated Press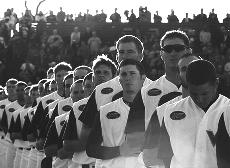 Charlie Dharapak, Associated Press
The massacre at Virginia Tech has affected every citizen in this nation to some degree, and it also hit the hearts of athletes.
Many major sports recognized the victims with a moment of silence at every ballpark in Major League Baseball, NASCAR drivers wearing VT hats during the pre-race ceremonies.
Though none of the 32 VT victims were athletes, when events like this occur, sports can take our minds off the most notorious catastrophe.
When Sept. 11, 2001 happened, it was the worst day in United States history. The country wondered whether many sporting events should be cancelled for an extended period of time.
MLB Commissioner Bud Selig and President George W. Bush decided that baseball should start up again to get America's minds off the disaster.
The massacre at VT has had the same effect for not only Hokies, but also Americans. On April 18, Chicago White Sox pitcher Mark Buehrle threw a complete game no-hitter against the Texas Rangers. During post-game interviews, Buehrle and White Sox Manager Ozzie Guillen remembered the victims by wearing VT hats.
Sports have always removed us from reality because they are a form of entertainment. It provides us with entertainment and a mindset that anything can happen, that a special moment can lift us up and excite us. Buehrle's no-hitter had no relation to VT, but it moved us away from reality for just that moment.
Many sports teams and schools gave their condolences to VT with messages to the Hokies. Not only were there messages from alumni, but all around. Here is a message from Indiana State University, on the VT Remembarance website:
"The thoughts and prayers of the Sycamore faithful go out to the administration, faculty, staff and students and their families, associated with the tragedy at Virginia Tech," said Director of Athletics Ron Prettyman. "Let us be reminded to be aware of the dangers around us and to reach out to others in their times of need.
"While we are grateful for our freedoms, we must also be cognizant of the fact that care and concern must be taken in consideration when proceeding with our every day activities."
Los Angeles Angels of Anaheim starting pitcher Joe Saunders is currently the only alumnus from VT in the majors today. He wore his old ball cap from his playing days with the Hokies and gave the Angels the lift it needed to defeat the Seattle Mariners 8-4, April 20.
"I was really nervous coming in — just the sheer fact of knowing what the game meant to me, to all of Hokie Nation out there in Virginia, to my family, and to this team because we needed the win.," Saunders said, according to ESPN.com.
In remembrance of the victims, all Atlantic Coast Conference teams will have a moment of silence before the spring championships and all athletes will have a black wristband to wear during competition.
Virginia Tech players and coaches will also have a patch on their uniforms that show the school logo with a black ribbon and the word 'Remembers' on the ribbon. Also the date 4-16-07 is emblazoned on the Virginia Tech logo.
VT's Baseball Team was the first sporting event on the school's campus and the turnout was magnificent.
English Field had a record 3,132 fans show up to support the Hokies in an 11-9 loss to the University of Miami Florida. The fans almost witnessed a come-from-behind victory with the Hokies coming from a 10-5 deficit in the eighth inning, but falling short.
When VT students return in the fall, they will be heading back to classes and resuming their lives, going to Hokie sporting events, preparing for another football season, sitting in the stands and rooting for their team; and America will be rooting for the Hokies as well. As quoted on Facebook and other venues, "Today, we are all Hokies."