Editors give their fond farewells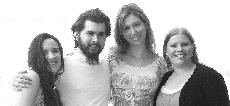 Brianna Bodine
,
Stan Schulte
,
Carolyn Noe
and
Miranda Depenbrock
.
Bodine says sayonara to NKU
Opinionated is a mild term for my personality: Having a proclivity to espouse my viewpoints on any and every subject given the slightest opportunity is more accurate. My writing style is seldom equated with concise linguistics, but rather notorious for running about 1,000 words too long.
46.
Regardless, I have been instructed to encompass my entire Northerner experience, more than three years of writing madly on deadline and designing pages until the crack of dawn on Wednesday mornings, in 250 words. No difficult task if I keep it simple – what we do and how we do it. However, this paper has been more than a footnote in my campus scrapbook. It has been a rite of passage, and an abbreviated biography hardly does it justice.
125.
I could say that working at the student paper has enhanced my resume and made me a more marketable employee, or that I have acquired valuable skills and garnered beneficial industry contacts, and I would not be mistaken. But those benefits are not the reason I volunteered innumerable hours (a.k.a. sold my soul) to a student organization for eight semesters straight, often sacrificing sleep and sanity to print a 10-page broadsheet.
196.
No, clich