In the hot seat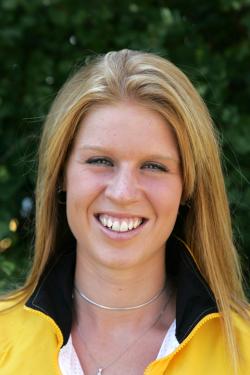 Tim Downer
In the Hot Seat with Tim Downer
Sophomore tennis player Josh Fudala from Cincinnati, Ohio is this week's Hot Seat guest.
Tim: Josh, how long have you been playing tennis? Josh: I have been playing tennis for 14 years now.
Tim: Did you play in high school, and if so, how good were you? Josh: I played for Turpin High School and I was on varsity for four years. I would like to think that I was a pretty good player.
Tim: Were you recruited to play at Northern Kentucky University? Josh: No, I was not recruited.
Tim: What made you decide to come to NKU? Josh: First and foremost, it was close to home. I decided to come play tennis because I had known (Geoff Crawford) for quite some time and I have the utmost respect for him and NKU tennis.
Tim: Did you have any offers to play at other schools? Josh: No, I did not have any other offers.
Tim: Josh, what is your strength in tennis? Josh: My return of serve (preferably backhand side) and my never-say-die attitude. I believe I have an extraordinary mental game.
Tim: How fast is your serve? Josh: 85-95 mph.
Tim: How good is the NKU men's team this year? Josh: I believe that this team is good and deeper than we were last year.
Tim: How are the other teams in the GLVC and who is the team to beat? Josh: All of the other teams are good and bad, but the team to beat is always Drury, Rockhurst and Indianapolis.
Tim: What do you think about the new courts at NKU? Josh: I think the new courts at NKU look real good. Now it is just time for them to fix a few of those screw ups that they made on them.
Tim: Do you prefer playing indoors or outdoors? Josh: I love to play outdoors.
Tim: Who is the one tennis player you admire? Josh: I admire my teammate and best friend Fritz Dlabik. The reason I admire him is because he reminds me of myself and he has a wonderful attitude coming into our matches, and he is by far the best teammate another teammate could have.
Tim: What professional player would you like to play a match against? Josh: I would love to play a match against my hero, Andre Agassi.
Tim: Do you think the prize money in the professional tennis events should be equal for both male and female? Josh: Yes I do. I believe that women's tennis has done enough to prove that they are equal and deserve the same pay as males receive.
Tim: What kind of strength training must tennis players do? Josh: A lot of running and a lot of days in the weight room working those legs, shoulders and back.
Tim: After your tennis playing days are over at NKU, what will you do? Josh: I plan to become a 5th grade elementary school teacher teaching social studies and science.
Tim: How do tennis players get psyched up for a match? Josh: There are many ways players get psyched up for a match. They listen to their music, have rowdy and loud cheers and they constantly remind their teammates of how good they are and how good they can be.