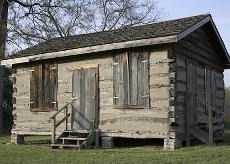 Nicole Jones
You turn onto Louie B. Nunn Drive to participate in the traditional parking lot stalking/hunting expedition; and on your way, you glance over the campus scenery. The Welcome Center, Loch Norse, the Honors House, the cabin- wait a second.
One of these doesn't fit.
You could puzzle over this campus conundrum for days. Or, you could let The Northerner explain this particular head-scratcher. On the Honors House lawn is a rustic cabin, otherwise known as the Columbus H. Gosney Cabin, which was donated to the university in 1982 by the Campbell County Public Parks Corporation.
According to the university archive, Benjamin C. Gosney built the cabin some time in the late 1700s or early 1800s. It stayed in the family until the 1940s, when Alexandria Bank President Andrew Turner bought and moved it from the original Clay Ridge Road site to his property in Alexandria, where he used it as a bathhouse for his lake.
Then, in the 1970s, the Alexandria Bank donated the cabin to the Heritage Village planned for A.J. Jolly Park in Alexandria, Ky., where it would have been used as a nondenominational church for campers and a display area for maps, according to university archives. However, this plan was never actualized, and four years after its placement there, the cabin was taken to its current home on campus, where it was reassembled log by log.
So that's how it got here. But WHY do we such have a Lincoln-esque homestead on our campus? According to a fact sheet obtained from the university archives, former Northern Kentucky University President Dr. A. D. Albright expressed a desire to obtain a replica of an early Campbell County schoolhouse for the university in order to "illustrate the striking degree of progress which has been made in the development of education in Northern Kentucky."
Although no one knew if the Gosney Cabin was ever really a schoolhouse, its outside fit the bill, and Albright began the process for the cabin's donation to the university in 1982.
When NKU took possession of the cabin in July of that year, the Campbell County Recorder ran an article covering it, quoting then university archivist and curator Dr. James C. Claypool about the cabin's origins.
"It can't be substantiated historically that this was at one time a school, but the structure is very typical of the one-room cabins which housed early schools, churches and residences," Claypool said in the article.
A little over a year later, on Nov. 5, 1983, the dedication of the Gosney Cabin took place. Claypool, who, along with Albright, had played a key role in the cabin's presence at NKU, spoke at the dedication.
"Time passed these one-room schools by, a count made last year noted that only 200 still exist, yet they are as much a part of our educational heritage as this vast university, amidst which the schoolhouse now sits," said Claypool in his dedication speech. "We hope that as people come to our campus, they will remember our nation's educational roots, and in noting these humble origins realize the boundless horizons a university offers the people it serves."