Bender gets set for new school year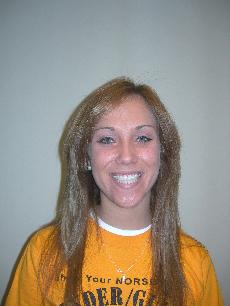 After the second largest voter turnout in the Student Government Association's history, Alyse Bender won the SGA presidential position on a slate with Executive Vice President Tony Gulla.
Bender and Gulla accumulated 566 votes during SGA elections April 11 and 12. A total of 1,126 people voted in this year's election.
"There was a really good turnout this year," said Steven Meier, associate dean of students. "It was great to have so many student leaders running for positions in SGA."
Bender knew, after being elected vice president of student involvement, that she wanted to run for SGA president. She attributes her love of NKU to her father, who earned his undergraduate degree at Northern Kentucky University and his law school degree at Salmon P. Chase College of Law. He has been her role model since she started her education.
"NKU has been a part of my life ever since I was born," Bender said. "I want to make NKU not only a great university in the present, but a happy, healthy university in the future."
Her plan of action is to address the needs of students through an open forum called "Pizza and Politics."
"Pizza and Politics will be a monthly opportunity for students to discuss their concerns with SGA senators and the SGA executive team," Bender said. It will be similar to the open sessions at SGA meetings where students can address the body, but she said it will be more casual and at a convenient time for students to attend.
Bender decided to start 'Pizza and Politics' to give more students an opportunity to speak. "When campaigning, I learned of several issues that, had I not asked, I would never have known about," she said. A disabled student brought to her attention the need for yellow paint to increase visibility on the outside steps around campus. Bender said she would address that issue as soon as she takes office.
Additionally, Bender found that art students are struggling to pay for their expensive supplies out of their own pocket. "I would like to establish art supplies scholarships to help relieve the additional financial burden from art students," she said.
Bender said there are many other issues that she will address during her term, including relieving parking concerns with parking pass scholarships.
"My biggest goal as SGA president is to increase trust in SGA and make the image of SGA positive," she said. "We want the students to understand we represent them."
She is looking forward to the upcoming year as she takes her new position. "I am very excited that involvement is increasing and students are really speaking their minds. I know that I will be able to accomplish so much with the support of my family, friends and fellow SGA members," she said.