Students party to raise funds for Hope's Voice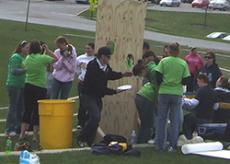 The Rites of Spring week kicked off April 9 with the first ever Norse-a-Palooza.
The main event was the tug-of-war competition. Thought up by Jessica Flake, one of the coordinators of Norse-a-Palooza, the tug-of-war was a substitute for the pumpkin smashing competition held in the fall.
"It's the beginning of a new tradition," she said.
By the time singer/songwriter and Cincinnati native Ryan Adcock began, the cold had chased away most people. The few listeners left cheered him on, and some even began dancing.
The other attractions included the inflatable devices and booths set up by several student and campus organizations.
These devices came in a variety of shapes, and in turn entertainments, such as a mechanical bull, boxing ring, slide and obstacle course – all inflatable.
Booths set up by fraternities and sororities also raised money for Hope's Voice, an organization dedicated to the education and prevention of HIV and AIDS in young people.
For a dollar you could "Pie a Theta Phi" or throw a water balloon at Mike "Big Mike" Tobergta. One sorority organized games of corn hole, and one fraternity set up targets, at which you could throw eggs.
Rites of Spring continues this week with the Student Organization Celebration at 6:30 p.m., April 11 at The Newport Syndicate. The "Does HIV Look Like Me?" lecture will be given by U.N. spokesman Todd Murray at 7 p.m., April 12 in the Otto M. Budig Theater. The week concludes April 14 with a block party at 8 p.m. at the sand volleyball courts, where a live DJ and free drinks provided.