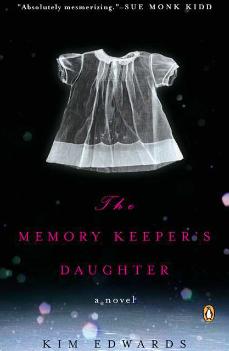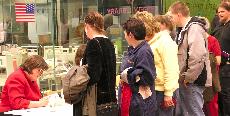 Kim Edwards, author of the New York Times best-selling novel "The Memory Keeper's Daughter," read excerpts from her work and responded to the audience's questions April 4 in the W. Frank Steely Library loggia.
Edwards, following introductions by VIPs such as Northern Kentucky University President James Votruba and arts philanthropist Lois Rosenthal among others, addressed a crowd of approximately 200 faculty, students and community members.
Edwards spoke about the process of writing her first novel and creative writing in general by addressing the question of whether writing is formed from intention, with an imposed structure, or from invention, leaning heavily on discovery. She favors the latter.
"When I started writing 'Memory Keeper's Daughter,' as with all the things I write, it was without any idea at all where it would take me, either in the narrative or in the world," Edwards said. "I wrote to discover the story, and I wrote without any contract on the novel or without any certainty that it would even be published when I was finished. I think about writing as being a kind of journey: solitary but exciting. Or it's also accurate to say that I think of it as an archaeological dig in a way, where you start out with great hopes for a particular piece of land, but with no certainty at all of what will be discovered in that terrain."
Using quotations from a diversity of authors, ranging from famous Russian author Fyodor Dostoyevsky to Gabriel Garcia Marquez – as well as her own reflections – Edwards, a creative writing professor from the University of Kentucky, concluded that both intention and invention were important to the formation and origin of stories.
"In the end, I've come to understand that these two approaches that are in seeming opposition are really two parts of the greater creative whole," Edwards confided. "I think writers tend to lean one way or another. But in fact, there's always a constant interplay between form and innovation."
The evening also yielded some rich anecdotal gems, including the fact that the novel's humorous exploding-vacuum sketch was modeled after a somewhat similar hushed-up, real-life occurrence involving Edwards' mother, a vacuum and eaves full of bees.
"My mother did eventually tell my father (about the incident) before the book was published," Edwards said to peels of laughter.
The author graciously signed dozens of copies of her work, chatting with attendees. Many of those in attendance stayed to discuss the event or to sample light refreshments.
Timothy Scott McLaren, a senior English major, was interested in how Edwards structured and revised her craft, and he discovered information he could take away and use for his own work
"It's really encouraging," McLaren said. "I'm an amateur writer. I just do it for fun. And maybe this is an avenue I might be able to pursue later on."
Michelle Franklin, a sophomore psychology major, who along with McLaren attended the event as a class requirement, enjoyed the evening. "I think it was a pretty good program," Franklin said. "I did like it, and I would recommend the book."
Rosenthal, whose family foundation offered support for the event, gave a glowing endorsement after the reading: "I believe in her work as a writer, so it was my honor and my pleasure to support (Edwards' appearance) at NKU."
The Friends of Steely Library presented the April 4 reading. The series has hosted other authors such as nature and fiction writer Rick Bass, and Kentucky writers Gwyn Hyman Rubio, Silas House and Richard Taylor.
"It's been a delight to be here," Edwards said, offering a quick comment following the book-signing portion of the evening. "It's just a pleasure and an honor to be in this venue, and I'm glad to be part of the series."