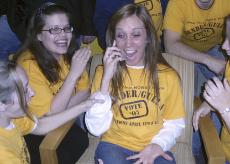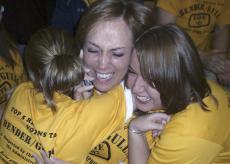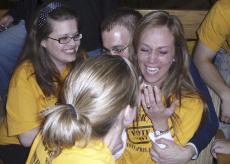 Screams overpowered the music playing in the University Center's second floor lobby as Alyse Bender and Tony Gulla received the call that they had won president and vice president, respectively, in the 2007 Student Government Association election.
Bender/Gulla received 566 votes during the two-day voting period, which ended at 10 p.m. April 12.
Bender hugged those around her, who were also awaiting election results, and tearfully ended the phone call from Chief Justice Brett Hardebeck, who informed her of the win.
"I was like, 'Oh my God, I just won,' I screamed, and just started to bawl," she said. "I'm so excited that my hard work, time, energy and passion about it paid off."
In the fall, 750 people voted during the elections, however 1,126 cast their votes this year.
The debated chalking opinion poll turned out 1,049 votes, with 729 students in favor of chalking.
Also elected to the SGA executive board were Gabe Cronon for vice president of Student Involvement; Kelly Sirk for vice president or Public Relations; and Shauna Prentice for vice president of Administrative Affairs.
Andrew Stewart was elected to Judicial Council. The two other positions are still under review and are to be determined.
The following 15 students were elected senator positions: Liz Osborne, Parker LaBoiteaux, Curtis White, Michael "Big Mike" Tobergta, Jeremy Craft, Tenielle Lawson, Beth Bleha, Chander Bhola, Jake Lehnert, Christina Holmes, Rodney Moore, Melanie Ehrlich, Ash Eyler, Adam Sandfoss and a tie that is to be determined between Jessica Hare and Ryan Jones.
In August, Bender said she plans to first address parking scholarships and then focus on making students' voices heard through a new program, "Pizza and Politics."