Norse sweep Lewis, now only three games out of first place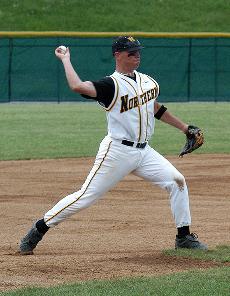 Tim Downer
During the past few weeks, the Northern Kentucky University Baseball Team have achieved some quality wins against Great Lakes Valley Conference teams, including a three-game sweep over the Lewis University Flyers April 6 and 7.
After starting the season at a dismal 1-9, the Norse (15-18) has gone on a 14-9 run and improved its conference record to 13-8, just three games behind Bellarmine University.
Starting pitching has become a strong point for NKU, as it got quality starts from Matt Marksbury, Josh Bruns and Josh Lueke.
Whenever a team gets solid pitching, you have a great shot at nailing a win.
In Game 1 versus the Flyers, Marksbury threw seven innings of three-run baseball (two earned), striking out eight and surrendering 10 hits. With the offense behind Marksbury, he had all the support he would need.
Both Kory Lonergan and Jake Shaffer combined for six of the nine hits in the game, as the Norse defeated Lewis 8-3. Lonergan led the way with three RBI's in the game.
In Game 2, Bruns and the bullpen combined for a 5-0, three-hit shutout. Bruns was spectacular in the outing, pitching six innings, giving up three hits and two walks while striking out eight Flyers.
First baseman Evan McDole had a perfect day at the plate, going for 4-for-4, including his fifth double of the season.
Errors plagued LU, as the team committed three errors in the game leading to unearned runs for the Norse.
In Game 3, runs were hard to come by, as the Norse completed the sweep winning 1-0 over LU.
Lueke improved to 2-5, pitching a complete game nine-inning shutout, surrendering seven hits, two walks, while striking out five.
The Flyers couldn't get any runs across the plate despite producing seven hits.
Lonergan drove in the only run for the Norse as he went 1-for-4 on the day.
For NKU the season is winding down and the post-season is in sight as the Norse is only three games back of the Knights in the GLVC standings.
Next for the Norse is the Kentucky Wesleyan College Panthers, April 11, at Panther Park, in Owensboro, Ky.