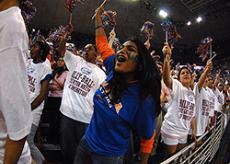 Phil Sandlin/AP
AP Video: Champion Gators Return
Assoicated Press Video
Click here to watch video.
The Gators broke the hearts of Buckeye fans once again.
Just three months after the University of Florida trounced a heavily favored Ohio State squad in college football's national championship game, the Gators snatched another national championship from the Buckeyes this time in men's basketball. The second loss in as many championship meetings didn't sit well with about 50 scarlet- and-gray-clad Buckeye fans watching the game Monday night on three big-screen TVs at the Buckeye Hall of Fame Cafe.
"Now it's going to be the whole state of Florida talking trash," said Brian Thompson of Columbus.
And indeed it is.
"It's truly the year of the Gators," said Chris Leak, the quarterback who led the Gator football team to a championship win in January.
Leak joined more than 11,000 fans who watched the game live on four large video screens inside the O'Connell Center on the UF campus in Gainesville, Fla. Students hugged each other, danced in their seats and cheered as their basketball team defeated Ohio State 84-75 in Atlanta.
"I don't think the younger students realize what's going on here," said Thomas Villanti, a second year law student who has been at UF for six years. "A lot of kids go their entire college career and never experience one national title shot. This is just amazing."
Drivers honked their horns, fireworks lit the night and fans continued to cheer into the early morning hours Tuesday. As many as 25,000 fans took to the streets to celebrate the Gators' victory.
Four people were arrested, and as the celebrations were winding down, a police officer was hit by a truck and critically injured, police spokesman Keith Kameg said.
The Florida Highway Patrol identified the driver as a 21-year-old man in town for the parties and said he also ran two motorcycle officers off a road before stopping. Another person was taken to a hospital after falling from a tree.
In Columbus, the mood was decidedly glum. Robbie Hayes held his head in his hands as the game's final seconds ticked off the clock and the Gators celebrated.
"I'm crushed. I now hate Florida as much as I hate Michigan," he said.
Buckeye fan Matt Tennyson said the rivalry between Florida and Ohio State will never be as monumental as the Ohio State-Michigan rivalry because the teams don't play regularly.
"Yeah, they beat us in the championship," he said. "But that's only one game." Hayes was able to find a silver lining in the loss.
"If there's one good thing to come out of this, hopefully it will be that our freshman class comes back next year to try again," said Hayes, a student at nearby Otterbein College. His hopes hinge mainly on Greg Oden, Ohio State's 7-foot freshman star who's predicted to be a top draft pick if he decides to enter the NBA.