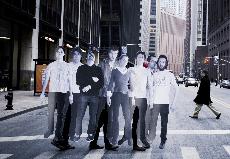 30 p.m. May 22 at the Southgate House Ballroom in Newport. The show is 18 and up and tickets are $15 each.
There is a phenomenon within indie rock known as "doing the standing still." It's seen at underground concerts, and is a "dance" consisting of standing straight up, arms to the side, nodding the head up and down. There are many amazing bands that never manage to compel their audience beyond this state. However, indie/dance group !!! (pronounced chik-chik-chik) is the exception to this rule. A !!! concert is an uninhibited club dance party, and it has bottled that feeling on its third full-length release, entitled "Myth Takes."
!!! is the best kept secret in indie rock here in the states, while its stint opening for the Red Hot Chili Peppers on its recent UK tour has blown them up in Europe. !!!'s sound consists of driving, complex beats coupled with strong groove bass lines, and a lead guitar that ranges from atmospheric and haunting to jangly indie rock to straight up disco.
The new album is !!!'s best yet, tightening up the production to new heights while keeping the spirit of its previous efforts alive. "Must Be the Moon" is one of the standouts of the album, telling the story of a late-night hookup at a dance club (and being a perfect song for a dance club in and of itself). The title track "Myth Takes" sounds both old-fashioned and progressive at once, with a dominating groove bass line and surfy guitar. "All My Heroes Are Weirdoes" is an orgy of complex rhythms that are amazingly deep. "Bend over Beethoven" is an opus of a disco/funk/rock instrumental, and it is all powerful stuff.
!!! manages to bring many different types of people to its music and somehow provides a common ground for all of them. Indie rock kids love !!!. Jam band kids love !!!. Hippie kids love !!!. Hip-hop kids love !!!. It is one of the few bands today that can bridge many disparate styles, and do it well. After hearing this album, it's clear the band is poised to rocket to stardom. Put simply, this is music that the scene, and the music industry as a whole, has been in desperate need of.
This album is not just a recommended buy or listen. This is an album you must seek out and give a listen, and without a doubt it's an early candidate for album of the year. At the risk of overselling, this is the freshest, most original and most accomplished album heard in this genre for quite some time, and gets the highest recommendation possible.