Lo-fi album an excellent return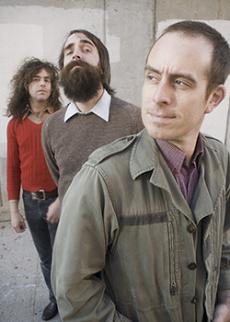 Courtesy of Touch and Go/Quarterstick Records
Back on the scene with its seventh full-length release entitled "Living with the Living," Ted Leo and the Pharmacists is bringing its signature folk/pop/punk/dub blend to the masses once again. This follow-up to the disappointing and lukewarm "Shake the Sheets" is an excellent return to form for the indie trio.
Ted Leo remains one of the most eclectic artists to grace independent rock, with the ability to cross and blend musical genres at will. In the most basic terms, his sound is American and Celtic folk meets the Clash, with a bit of classic dub and pop thrown in for good measure.
To say that he is unique among the musical landscape at this point would be redundant, as well as stating the obvious.
While far better than the previous album, this new release does suffer from inconsistencies in the quality of the songs. "Who Do You Love" is one of the brilliant songs on this album, with a smooth, refined pop sound coupled with edgy, angular Clash-esque guitars.
"The Unwanted Things" is also a standout, a return to Ted's dub roots and reminiscent of classic Junior Murvin songs.
However, all the cuts on the album can't be looked at in the same favorable light. "A Bottle of Buckie" sounds completely out of place on the album. Surely the intent was to provide a fully folk song to the album, but instead it comes off sounding like a modern country song. In short, it's irritating. "Bomb.Repeat.Bomb." also falls flat, sounding like a strange collaboration of Jello Biafra and the Dismemberment Plan.
Ted may be far more pop than punk these days, so fans who were hoping for a return to the lo-fi, edgy roots of Ted's first three albums will be a bit disappointed. Newcomers to Ted Leo's sound would be better served starting with "Hearts of Oak," Ted's fourth release, which is a complete indie masterpiece. "Living with the Living," however, aside from a few hiccups, is a wonderfully produced and accomplished album, and is definitely worth putting in your ear.