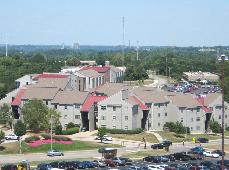 Northerner File Photo
Two days before students lined outside of Norse Commons to claim rooms for the fall semester, the director of University Housing discovered he would have 230 fewer beds to offer to students wanting to live on campus.
The university was planning to purchase the former Lakeside Heights Nursing Center, located on Martha Lane Collins Boulevard, renovate the building and open it in the fall as a dormitory.
The university needed to purchase the building and property before March 1 so the renovations would be completed in time to open half of it for dorm space in August, according to Matt Brown, housing director.
Brown said Northern Kentucky University plans to purchase the building after Kentucky Legislature approves $23 million in bond authority, which was vetoed by Gov. Ernie Fletcher last year.
"I still feel like they are going to come through," Brown said.
Brown said he and NKU administrators have been proactive in searching for housing since the demand increased in recent years.
"I knew the housing crisis was coming," said Brown.
Brown saw his predictions come true the morning of March 17, when more than 500 students attempted to sign contracts to move to a different room for the fall. Students who wish to stay in their current home assignments are allowed to sign contracts before those who plan to change room assignments.
Last year, Brown placed a cap of 550 returning students who could live on campus. This year, he lowered that number to 500.
The first student lined up at 2 a.m. March 17 outside of the housing office in Norse Commons. He brought a blanket and slept outside of the office to secure a place to live on campus in the fall.
He awoke when a housing employee opened the office that morning. "(She) had to ask him to move so she could get through the door," Brown said.
About 200 students signed contracts to stay in their current room assignments before the first day for room changes for fall.
Brown said more than 200 returning students on are the waiting list.
He hoped to curb the number of students waiting by requiring a $200 deposit at the time someone wanted to turn in applications.
"I thought it would slow the demand," he said. "But it had no impact at all."
Though there is a waiting list for returning students to live on campus in August, hundreds of open rooms are reserved for first-time freshmen who want to live on campus.