From silkscreens to sinks, students meld media for the 2007 student show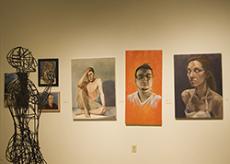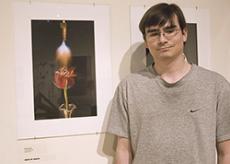 Walking into the Third Floor and Main art galleries is like entering The Twilight Zone. Ceramic hands protrude from the wall, huge canvases hang in the back and delicate sculptures stand on uncomfortably small pedestals around every corner.
But the 2007 juried student show is about more than dimensions and metaphors. It's about displaying a plethora of professional-caliber student work from all areas of the art department.
And this year's show is no small display.
Works ranging from art books to video and from sculpture to printmaking adorn the white gallery walls and displays of both the Main and smaller Third Floor art galleries in the Fine Arts building.
The Student Show is an opportunity for artists to display their work, experience a juried show and win scholarships.
A juried show is a gallery exhibition where one or two outside judges review and choose the art that is displayed. In the case of the Student Show, the juror, Saad Ghosn, also awarded exceptional work.
"This is also our scholarship show," Thomas McGovern, chair of the Department of Visual Arts, said. "It's become a very big event