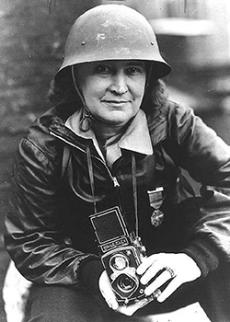 The Library of Congress.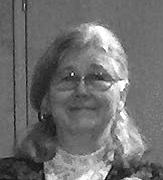 In 1946, one photojournalist photographed the liberation of Dachau in Munich, Germany. That night, she stayed at the U.S. Army Headquarters, otherwise known as Adolf Hitler's former private apartments. She hadn't had a bath in weeks. A fellow photographer took a picture of her in Hitler's bathtub.
Lee Miller, a World War II photographer, later joked about washing off the dirt of Dachau in Hitler's own tub.
Miller was one of many female WWII photographers discussed in the latest installment of Northern Kentucky University's Military History Lecture Series, "I'd Rather Stalk with a Camera Than a Gun," given by Dr. Constance B. Schulz, a history professor at the University of South Carolina.
But these photographers weren't amateurs, Schulz said. "One hundred and twenty seven women were given credentials by the war department to perform some journalistic tasks," she said. "We're talking about professionals, not a Red Cross worker who took out her camera and snapped."
Photojournalists Margaret Bourke-White, Therese Bonney and Lee Miller were three of the most prolific photographers during WWII – and the most discussed during Schulz's lecture. However, Schulz was quick to point out that if she gave each WWII photographer the time she deserved, the audience might be there until the lights shut off.
Bourke-White was born in New York City and went to Columbia University. She joined Life Magazine at its beginning, and acted as a key member of its photographic team during the war, Schulz said.
"She was notorious for what one commentator called 'an extravagant amount of film equipment," Schulz said, which weighed at least 250 pounds.
Bourke-White's most famous work occurred at the liberation of Buchenwald in 1945, where she took "Buchenwald 1945" and "Citizens of Weimar view Buchenwald."
Bonney earned a degree from the University of Berkeley, a master's from Harvard and a doctorate from Columbia University. She was also the first woman awarded a scholarship to the Sorbonne in Paris. WWII hit Finland in 1939 while Bonney was there covering the Olympics. "She photographed the impact of war on ordinary women, men and children," Schulz said.
Before Miller posed in Hitler's bathtub, she had a troubled youth. She was sexually molested as a child by a family friend, expelled from school, and sent to Paris to "calm her down," Schulz said. Miller became a nude model, married an Egyptian, was painted by Picasso and then became a fashion photographer. She joined British Vogue when WWII broke out because she was tired of fashion photography. "She was a free spirit," Schulz laughed.
Schulz said each of the women who photographed WWII believed in the importance of her life's work.
"They were wonderfully articulate women who believed photography makes a difference," Schulz said. "They believed in the war that they were photographing and they believed in photography."
Schulz, who received her master's and doctorate from the University of Cincinnati, usually studies the 10-year photography project taken on by the Farm Security Administration from 1935 to 1945, whose photographs encompassed American life from the Depression to WWII's end. Schulz, however, was grateful for a chance to learn more about WWII photographers, a subject she had only touched on before.
"I thank you," Schulz said. "The Military History Lecture has given me all new insight into the photographs I know and love."
Senior photography major Natasha Gaynor, unlike many of the students there, didn't come to the lecture for a class requirement or extra credit. After graduation, she plans to enlist in the Army as a photojournalist, and the Military History Lecture fell right into her line of study.
"I am excited to be able to photograph my own take of my experience in the Army," Gaynor said. "I've been studying war photographers and I'm looking forward to doing that myself."
Nate Thrift, a Thomas More student, said he came with his night class to mix things up. "It was interesting because I've never heard anything about that specific subject before," he said. "No one really associates women photographers on the front line in WWII."