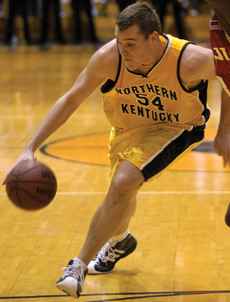 Tim Downer
The madness began even before CBS announced the NCAA Tournament brackets March 11.
That's because Ferris State University upended a Northern Kentucky University Women's Basketball Team that had been one of the hottest teams in the country after a slow start. The seventh-seeded Lady Bulldogs knocked off the upstart, second-seeded Lady Norse.
The Madness has officially begun.
That's the only explanation to NKU's devastating 70-69 loss to end the 2006-07 campaign on March 9, in Romeoville, Ill.
The second-seeded Norse fell to Ferris State on a last-second layup by FSU guard Teghan Thelen, who grabbed a loose ball under the basket and laid in just before time expired for the win.
The loss ends the Lady Norse season prematurely at 21-8. It ended a topsy-turvy season that saw the Lady Norse, who started the season at 7-5 and 1-4 in GLVC play before righting the ship, becoming arguably the hottest team in Division II basketball.
Despite the slow start, NKU came on to win 11 consecutive games between early January and the end of February. Just like that, the Lady Norse, who couldn't find any inconsistency, suddenly found themselves in the Division II AP Top 25 poll.
The Lady Norse played textbook basketball in January and February. . They were beating GLVC opponents with a stifling defense that was allowing 57 points per game and were holding opponents to 36 percent shooting from the field and 27 percent from behind the three-point line.
In one February game against Kentucky Wesleyan, the Lady Norse used a suffocating defense to win, 76-45. In an unbelievable all around effort, they held KWC to shooting under 18 percent from the field and 7 percent from three-point range.
They passed the ball well. There was no dominant scorer for the Lady Norse. They were unselfish and appeared to have fun on the floor together. Brittany Winner and Angela Healy both averaged 11 points per game for the Lady Norse, followed by Karyn Creager who averaged ten points per game. That's just one example of how unselfish and team-oriented the team was.
Although the Lady Norse were ousted in the first round of the Division II Tournament, no one should consider the season a failure. Coach Nancy Winstel recorded her 500th career victory on Nov. 21. The team overcame a sluggish start to finish 21-8. They allowed only 57 points per game, ranking them 32nd in Division II scoring defense.
And lastly, we can't fault them too much for falling on a last second buzzer-beater.
After all, it is March.