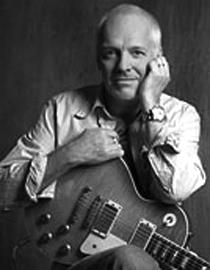 The WNKU spring fund drive at Northern Kentucky University's public radio station is getting a little help March 23 from rock legend and Cincinnati resident Peter Frampton, who is set to bring the third floor of Landrum alive as he co-hosts the noon hour with 89.7 WNKU-FM announcer John Patrick.
The megastar – whose 1976 "Frampton Comes Alive" album has, to date, sold more than 16 million copies – will play tunes from WNKU's library and try his hand at bringing in listener pledges.
"We're definitely going to put him to work," joked Aaron Sharpe, WNKU's development director. "On-air fundraising is not easy. If he does well, we may just put him on the payroll."
Frampton is no stranger to WNKU. He performed on King Records' tribute compilation disc, "Hidden Treasures," in 2002, with WNKU collaborating as the media sponsor. The CD's proceeds benefited Inclusion Network, a non-profit organization that provides consultancy for people with disabilities. Frampton also recorded voice-over announcements for the station's 20th anniversary celebration in 2005.
"He's interested in giving back to the community," said Grady Kirkpatrick, interim general manager of WNKU.
Kirkpatrick noted that Frampton is a highly skilled instrumentalist, as evidenced by his 2006 Grammy award-winning album, "Fingerprints."
"He has a good reputation among musicians," Kirkpatrick added.
Frampton's generosity to the station includes contributing some autographed copies of "Fingerprints" as a pledge premium.
Kirkpatrick hopes to see the station's relationship with the musician continue and grow through other collaborative projects.
"He's got a great history in music," Kirkpatrick said.
Frampton's co-hosting gig will help raise funds for WNKU's operating and programming costs.