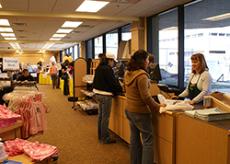 The Northern Kentucky University bookstore is yet another part of campus that is receiving a construction makeover.
The changes are about a year and a half in the making, according to Sarah Thacker, textbook manager.
The remodeled bookstore is still under construction, but it is already displaying visual signs of change. It now has two floors , and a new entrance on the plaza level.
"I think [the new construction] will create a better environment for students. It'll be more hip," Thacker said.
Mimi Curry, sophomore and bookstore employee, believes the remodeled book-store will help sales.
She said it will help freshmen coming into the university find the bookstore more easily..
"They'll be able to come straight in," Curry said. "They'll see it first thing."
Though the bookstore isn't quite complete, stairs and an elevator will give customers easy access to each floor. Brightly colored NKU apparel displayed in the front of the new second level will be easy to spot.
"It'll be all-around better," Thacker said.
Curry estimates the construction will take six more months to complete
"We're open even though the walls aren't up. You can still bring back your books starting April 26. Come in and check us out," Thacker said.