NKU no longer known as 'No Knowledge University'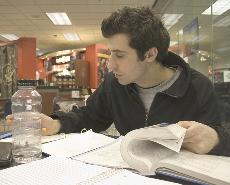 Nicole Jones
President James Votruba's emphasis on teaching excellence, paired with higher admission standards, has helped to better the reputation of Northern Kentucky University, according to Cooperative Institutional Research Program (CIRP) survey.
The CIRP Freshman Survey is a national survey by the University of California at Los Angeles that has administered to college freshmen students for 40 years. The survey asks students a variety of questions, including what reasons influenced them to attend NKU.
Stephanie Baker, a research analyst in the Office of Student Affairs, examines this data.
From 1999 to 2006, students coming to NKU for its good academic reputation have risen from 24 percent in 1999 to 47 percent in 2006. According to Baker, NKU's social reputation is on the incline. Only 14 percent of NKU freshmen said that the social reputation was a deciding factor in 1999, but rose to 32 percent by 2006.
"Students had perceptions of the school because of the academic standards," Baker said.
The No. 1 reason students chose NKU is still the cost, Baker said.
In 1999 the top three reasons students came to NKU were cost, location and its size. However, in 2006, the top three changed to the cost, the fact that NKU students get good jobs and the school's academic reputation.
Baker predicted NKU's reputation will only keep getting better with the new Student Union and the new Bank of Kentucky Arena, both of which are being built. The newer residence halls also attract the students, Baker said.
"Students come here and see this is a newer, shinier place," Baker said.
"All of the buildings are made of concrete," said Nathan Wesley, junior graphic design major. "It looks more modern than a lot of campuses."
Candace Knott, freshman elementary education major, said she chose NKU not only because it was close to home, but also because she heard the education program had a good reputation.
"NKU is now a first-choice institution," Baker said. In 2006, 74 percent of the freshmen students said NKU was their first choice, and only 6 percent said they had the idea of transferring, compared with 1999's 56 percent of students who planned to transfer.
"NKU offers a different kind of education," Baker said, "and I'm glad students are realizing and valuing that."