Suspected bomb just toothbrushes
Hang on for a minute...we're trying to find some more stories you might like.
Mailroom employees had a brush with danger when they were evacuated Feb. 15 because of a bomb scare, which turned out to be battery-operated toothbrushes.
Northern Kentucky University Mailroom Distribution Manager Charles Harris evacuated Room 100 of the Landrum Annex after he discovered a suspicious package at about 2:30 p.m. in the outgoing mail section.
According to the police report, Harris discovered a "package ticking."
"We had everyone leave the (annex) and we called the fire department and the police," Harris said. "It took them about 15 minutes to conduct a search of the mailroom."
According to police reports, the package was found to have two battery-operated toothbrushes in it. The package was mailed by a student from the university and intended as a gift for a relative.

About the Writer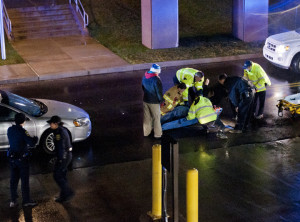 Staff Report, The Northerner
A male pedestrian was hit at approximately 8:45 p.m. Nov. 29 on Kenton Drive between Griffin Hall and Kenton Garage.

At the scene shortly after the...