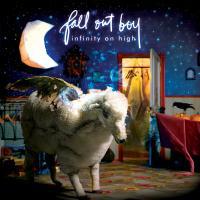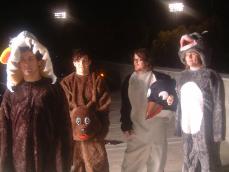 Fall Out Boy\'s
Joe Trohman
,
Pete Wentz
,
Andy Hurley
, and
Patrick Stump
hang out behind the scenes prowling the streets dressed as animals.
Are pop hooks anything like fish hooks? Fall Out Boy, with its Feb. 6, 2007 release "Infinity On High," proves that not only can those mind-melting, radio-friendly catch phrases leave their mark, but also the wounds may cause infection.
Waiting for antiseptic yet? You should be. The hooks on songs like "The Take Over, The Breaks Over" and "Hum Hallelujah" leave scars, and most of the other tracks make them fester.
Every song on Fall Out Boy's second major label album isn't necessarily a "single" worthy track. While the single "This Ain't a Scene, It's an Arms Race," has made its fair share of circulation on the FM airwaves, there are few remaining tracks that would have the same luck – but that doesn't mean they're not good.
This is truly a band in transition. While its previous release proved it had what it takes to be a household name, however, most of the tracks on "Infinity On High" leave you feeling a bit limp. Unfortunately, the generic sounds fall short of what this band is capable of making.
The band sounds like it's pissed about the music it's making, with every track containing a self-deprecating edge and cynicism that seems borderline career suicidal.
The first track on the album, "Thriller," paints the picture of a band who's living what it thought would be the dream, but turned out to be a nightmare. "But by fall we were a cover story/ Now In Stores/ Make us poster boys for your scene/ but we are not making an acceptance speech," is just one example, showing the morose side of going from a working class underground band to the heights of pop-rock stardom. It's hard to tell whether this is a chronicle of its ascent, or an artistic sign that the band's members could be sorry for its success.
Lines in tracks like its latest hit single "This Ain't a Scene, its An Arms Race" have bridges that read like an idiot's guide to acting at a show. "All the boys who the dance floor didn't love and all the girls who's lips couldn't move fast enough sing, until your lungs give out." These shouldn't be things you say to a crowd, but they should be things done by a crowd. If a band's music can polarize an audience and gain the following it has, then singing shouldn't be a request, it should be a standard part of a live show. Is this a sign a poor faith in an audience, or just an attempt to create magical live moments from safely inside a studio?
Fall Out Boy, with its roots in the Chicago suburbs, has paid its dues. The songs show the band has talent, with catchy guitar melodies and the falsetto vocal delivery of Patrick Stump, but talent alone doesn't make great music. The build up in certain songs feel like a tide is coming in, but when the wave crests, the listener is left high and dry.
While Fall Out Boy has proved it can wow fans, this band could on the verge of wowing the world. Every revolution of rock 'n' roll has a definitive band, one that captures the essence of that musical genre, and Fall Out Boy could be it – as soon as it lets loose and shows it has nothing else to prove. This album shows that Fall Out Boy is still trying to prove something, and it's still figuring out what that is.
Right now, it has the world watching, and so far, Fall Out Boy's wasting its fifteen minutes of fame. Sadly, if fans are looking for a satisfying musical catch, they might have to toss "Infinity on High" back in the water.
Fall Out Boy will be playing at the Riverbend Music Center as part of the Honda Civic Tour May 21 with +44, The Academy Is, Paul Wall and Cobra Starship.