Hot Seat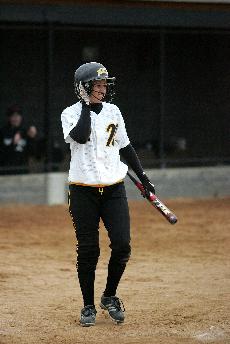 Becky Napier, senior infielder for the NKU women's softball team, is this week's guest on the Hot Seat.
Tim: Becky, what injury sidelined you for most of last year's season? Becky: I tore my labrum. I've had two surgeries on my throwing shoulder to try and repair it.
Tim: Have you recovered completely? Becky: Not quite. It has come a long way, but it will be a while until it heals completely. I will definitely be able to play through it though.
Tim: What do you think about the two All-American players who left the last two years from the program? Becky: They are amazing players. I have learned a lot from them. We are definitely going to miss them in the upcoming season. But we have a great group of freshmen that are going to step up for us.
Tim: You are the only senior on a team with eight sophomores and seven freshmen; how does that make you feel? Becky: Old and also like a mother. I feel like it's my job to lead these girls and help them in any way that I can.
Tim: The Norse is picked to place fourth in the GLVC this year. How do you think the team will do this year? Becky: We are definitely going to surprise a lot of people. We have a great young team; I have no doubts that we are going to do well. It doesn't matter what we are picked to be in the preseason poll, all that matters is what happens come conference play and tournament time. Tim: What are the team's strengths and weaknesses going into this season? Becky: We are a very close team. We all hang out and have a good time together. We are also a very good hitting team. A weakness of ours is that we are a very young team. Once the girls gain some experience, we are definitely going to shine.
Tim: Does it bother you that the team will only play 14 games at home this year? Becky: It would be nice to have a few more home games because it's my senior year. But at the end of the day, it doesn't matter where we play as long as we win.
Tim: Do you wish that your team could play under the lights? Becky: Well, since we only play at home seven days, it doesn't really pose a problem for us. When we host region, we could definitely use the lights. But it hasn't been a problem since I've been here.
Tim: What do you do to prepare yourself for a game? Becky: Focus. I listen to music and really focus on what I am going out there to do. Tim: Does the team have a good off-season conditioning program? Becky: Definitely. I felt in shape after it was over, so it accomplished its goal. Tim: What is it going to take to get more fans to come out to the home games? Becky: I think we have had a pretty good turnout for most of our games. I'm not sure if it has been a problem for us.
Tim: Do you feel that playing most of your games away from home helps you come tournament time? Becky: Without a doubt. By the end of the season we are used to the traveling and playing at other fields.
Tim: When you go away on road trips what kind of music do you listen to on the bus? Becky: Anything and everything. When I'm trying to sleep I put on some chill music, when I'm about to play I put on some pump up music.
Tim: Who has the best softball field in the GLVC? Becky: It is between Southern Illinois University at Edwardsville and us. They just got a new field and it's pretty nice, but I'm going to have to stick with my home field. It's been the best for me so far.