Barrymore and Grant harmonize perfectly in flick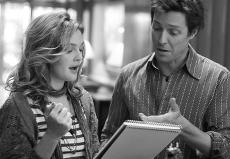 Contributed by Warner Brothers.
You don't have to be musically-inclined to enjoy the quirky humor of Marc Lawrence's "Music and Lyrics." In the movie, the '80s meets today against a backdrop of wild hair and bubble-gum lyrics versus scantily-clad prepubescent girls and sultry music.
Hugh Grant stars as the '80s has-been pop sensation, Alex Fletcher. With his career rapidly declining, Alex is given one chance for redemption when current teen pop star, Cora Corman (newcomer Haley Bennett), insists that he write her next big hit. With only a few days to compose the song, the lyrically-challenged Alex needs a miracle. His miracle comes in the form of Sophie Fisher (Drew Barrymore), his temporary plant caregiver who just happens to have a way with words.
The movie is one idiosyncratic quip from beginning to end. The chemistry between the actors gives the wordplay and anecdotes that extra punch, something always enjoyable to watch. Grant's humor flows naturally, while Barrymore portrays the eccentric Sophie with comedic flair. Brad Garrett completes the riotous trio as Alex's witty agent, Chris.
"Music and Lyrics" certainly keeps the laughs coming with a superbly written script and a dynamic bond between the actors. Romantically lighthearted, it is edgy enough to maintain the audiences' attention and the story line moves without dragging or skipping key scenes.